Corporate Social Responsibility
Huron's ability to grow as a company depends on the way we treat our people, how we enrich our communities, and how well we serve our clients. We are committed to investing in our people, making an impact on the communities we serve, taking action for a sustainable future, and managing responsibly. This commitment is core to our culture and is embedded across all levels of the company. Through our multi-faceted approach, we believe we will enable our people to make a stronger impact on our clients, the communities we serve and the environment while driving sustainable growth for Huron. Read our 2019 Corporate Social Responsibility Report to see how we are turning our commitment to our stakeholders into action.
Take a look at the 2019 Culture & Community By the Numbers to see how our efforts have made an impact, both externally and internally.
In this podcast, Patty Olsen, Chief Human Resources Officer at Huron and Dr. Isaac Dixon, Associate Vice President of Portland State University explore the relevancy of affinity groups with Cindy-Ann Thomas of Littler Mendelson.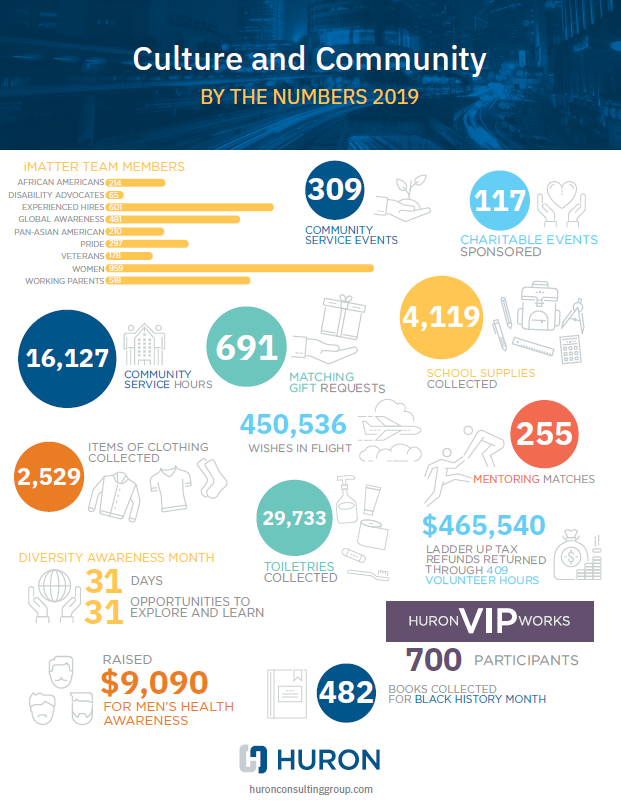 Diversity & Inclusion
At Huron, we are committed to creating and maintaining a work environment that values and fosters diversity and inclusion. By recruiting, retaining and developing a diverse work-force, we can better meet the needs of our clients and create opportunities for all of us. Our ability to attract and retain exceptional professionals, with diverse backgrounds and life experiences, helps us bring more innovative, creative and unique ideas and approaches to how we deliver excellent service and solutions to our clients.
Huron Helping Hands
Giving back to the communities in which we live and work is in our DNA. Our philanthropic program, Huron Helping Hands, consists of civic sponsorships, community service work, pro bono activities and a matching gifts program. Our activities are a combination of employee causes the company supports and corporate-led events.
Huron's Day of Service
In May, we held our 8th Annual Day of Service. Nearly 1,200 Huron employees participated in 144 projects in 60 locations around the globe. Employees made an impact in their communities by making 154 blankets for kids in hospitals, packing 224,538 individual meals to be distributed to across the globe, coaching and mentoring more than 1,100 youth and providing hundreds of families with access to food, shelter and other necessities.
Cardz for Kidz!

Huron partners with Cardz for Kidz!, an organization dedicated to uplifting the spirits of hospitalized children across the globe with homemade cards.

Ronald McDonald Charities

Employees have volunteered at Ronald McDonald Houses across North America to provide warm, homemade meals for families staying at the homes.

American Red Cross

Huron has partnered with the American Red Cross to host blood drives and CPR training and to help install smoke detectors in local communities.

Divya Prabha Ashram

Huron employees in Mumbai spent time at a local orphanage, Divya Prabha Ashram, on Day of Service 2017.
Recognition & Awards
Best Firms to Work For

2019, 2018, 2017, 2016, 2015, 2014, 2013, 2012 & 2011
Consulting magazine

Best Place to Work For LGBTQ Equality

2020, 2019, 2018, 2017, 2016, 2015 and 2014
Corporate Equality Index

Best Places to Work

2018
Modern Healthcare

Best Management Consulting Firms

2019, 2017 and 2016
Forbes

Top Ranked

2017, 2016
Vault's Consulting 50

Excellence in Social & Community Investment

2016, 2015 and 2014
Consulting magazine