Student Lifecycle
Rapidly shifting expectations and increasing competition require the right strategy, design and technology to optimize the student experience through all stages of the student's journey.
Featured Insights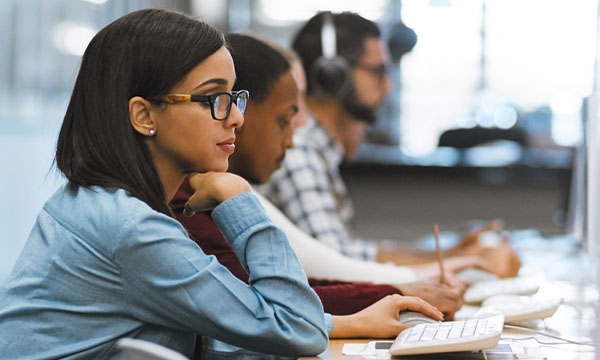 How We Can Help

Enable Student-centric Transformation

Enable Student-centric Transformation

To succeed in a competitive environment, colleges and universities must improve the student experience. Huron supports institutions with coordinated, scalable, strategic, student-centric approaches. We partner with you to bring your student vision to life, using modern technologies that support effective recruitment and financial aid strategies, enrolled student experience tracking, referral integration and support interventions, and university advancement strategies.

Design a Dynamic Student Strategy

Design a Dynamic Student Strategy

Creating the strategic foundation for a successful student experience is an imperative for higher education. Huron's education experts collaborate with college and university leaders to reimagine the way they recruit, enroll, advise and engage students across the entire student lifecycle. Huron helps institutions strengthen prospective student interest and enrolled student satisfaction through innovative service delivery and experience tracking that support improved yield, retention and graduation rates.

Deliver Tailored Student Experiences

Deliver Tailored Student Experiences

Improving the student experience requires a holistic approach, including the effective implementation and adoption of a unified, cloud-based technology system. Huron's comprehensive planning, implementation and post-production support services help institutions create a more seamless, personalized student experience.

Engage Prospective and Current Students

Engage Prospective and Current Students

In a more customer-centric landscape, colleges and universities put students at the center of all they do – from the day a student shows interest, through graduation and beyond – while managing broader stakeholder relationships. Advance your relationships by managing your outreach to prospective students, current students, alumni, donors and corporate partners in one central place.

With Huron, institutional leaders learn how customer relationship management (CRM) capabilities can be optimized to build, expand and sustain meaningful long-term relationships with constituents.

Modernize the Advancement Experience

Modernize the Advancement Experience

The key to sustaining a competitive advantage in today's shifting environment lies in delivering an experience that exceeds the expectations of your alumni, donors, friends and staff. A modern advancement platform not only elevates your impact — it also empowers institutions to continue maximizing engagement and increasing philanthropic giving by aligning constituents' experiences with their preferences, history and interests.

Huron can help you lay the groundwork for structural support and an enhanced engagement platform no matter where you are in the selection and implementation process.
Technology Partners
Oracle

Enable your transformation with technology solutions designed for your organization.

Learn More

Workday

Align business objectives, processes and workflows to activate solutions tailored to your specific needs.

Learn More

Salesforce

Use technology to unlock insights, drive meaningful interactions and strengthen your digital experiences.

Learn More