Dual Transformation: Reposition Today's Business While Creating the Future
Favorite
Contact Us
Reposition Today's Business While Creating The Future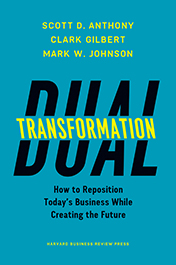 Great businesses can be destabilized quickly and unexpectedly. New competitors with new business models are disrupting established market leaders more frequently and radically than many organizations are prepared to address. Many companies' strategies have failed to address future success, instead relying on short-term fixes to meet immediate investor and client demands. In mature industries, incumbent leaders are extremely vulnerable to competitors offering simplicity, convenience, accessibility, and affordability.
Dual Transformation guides executives on how to help their organizations become the next version of themselves. The Dual Transformation approach focuses on repositioning today's business to maximize its resilience while at the same time creating tomorrow's new growth engine.
We have the opportunity to be proactive to secure our future, as opposed to reactive to secure our future." Mark Fields, CEO of Ford Motor Company
Order your copy of Dual Transformation here.
Leading Dual Transformation
Co-author Scott Anthony, managing director at Innosight, strategy and innovation at Huron, introduces the dual transformation approach and how it helps leaders confront today's business threats and turn them into opportunities.
Favorite
Contact Us