3 Reasons to Consider Oracle's Student Cloud
Favorite
Contact Us
Much Ado About Something
At the recent Alliance conference, one announcement generated significant buzz: Oracle's decision to accelerate the development of Student Cloud. While some institutions heralded the news, the news was also greeted with some concern by the many Oracle customers who have invested in the Campus Solutions product.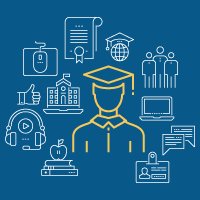 In speaking with several colleagues and long-time Oracle customers at the conference, it quickly became evident that the community felt a certain degree of apprehension about how this decision would impact their institutions. Those that have recently upgraded to Campus Solutions 9.2, or are planning to upgrade soon are now wondering about their path forward.
Having worked at this intersection of technology and higher education for many years, I've had the opportunity to work with clients who've found themselves at a similar crossroads. Knowing when and how to make any significant technology change is an individualized decision, dependent upon an institution's current needs and future vision.

Huron has played an integral role in the development of Student Cloud, and has been a long-time partner in implementing Oracle solutions at higher education institutions. Based on this experience and other industry trends, we believe that implementing Student Cloud — perhaps in a blended solution alongside Campus Solutions — will enable organizations to focus on student access, engagement and support quickly, and better meet the needs of today's learners.
"We believe that implementing Student Cloud - perhaps in a blended solution alongside Campus Solutions - will enable organizations to focus on student access, engagement and support quickly, and better meet the needs of today's learners."
3 Key Reasons to Consider Student Cloud
As you determine your next steps, consider how the new cloud solutions can benefit your institution:
It's Designed with the Student Experience in Mind.

Much has been written about evolving student expectations, driven largely by the consumer market: the demand for personalized services, ubiquitous access and intuitive user experiences. Also widely known are the impacts of these expectations on higher education, including increased competition and a push towards modernization.

At the heart of the education ecosystem is the SIS. It touches every student, and manages everything from first contact to payment to enrollment to graduation. When it works well, it's seamless. When it doesn't, it can become an obstacle to student success.

Take a candid inventory of the student experience, and identify your SIS's strengths and weaknesses. You may find that strategically shifting one or two of the modules to the Student Cloud (such as Student Recruiting, for example) may yield significant improvements in student satisfaction. Keeping your "end customers" in mind — students, as well as faculty — will ensure long-term success.

It Supports the Modern Student Lifecycle

Campus Solutions was designed with the more traditional student lifecycle in mind: apply, admit, enroll, pay. This model works well for most programs a university typically offers. But for many non-traditional programs, such as continuing and professional education programs — where the lifecycle starts at "pay" and students are often remote — Student Cloud is a better fit as it was designed to support traditional and non-traditional programs. It offers the flexibility needed to accommodate multiple student lifecycles. It also solves a critical problem for business schools, medical schools and other graduate programs because it can handle their more irregular class structure.

Student Cloud Offers Choice and Innovation

This is an opportunity to reexamine your SIS and take in the landscape of both your existing and future needs. What does the SIS need to do today to support your current student body and goals? What will it need to do in the next five years to keep pace with learner expectations and your institution's mission?

Cloud-based applications enable continuous updates, so that as technology and student expectations change, institutions don't have to make herculean efforts to keep pace. Still, for some institutions, the answer may lay in a hybrid approach that leverages select capabilities of both Campus Solutions and Student Cloud.

Regardless of which path you choose, having a roadmap in place will help protect your technology investments and ensure that your institution meets the needs of its stakeholders along the way.
Schedule a Strategy Session
To meet with a Huron expert for an initial assessment on which Oracle path might work best for your institution, please contact Ted Simpson.
About the Author
Ted Simpson is a senior director in the higher education technology practice at Huron. He served as president of the Higher Education User Group (HEUG), the global organization of universities using Oracle technology and applications serving over 900 universities in 28 countries. Prior to consulting, Ted served in leadership roles in information technology and academic affairs at the University of Maryland and the John Hopkins University.
Favorite
Contact Us