Paradigm - February 2018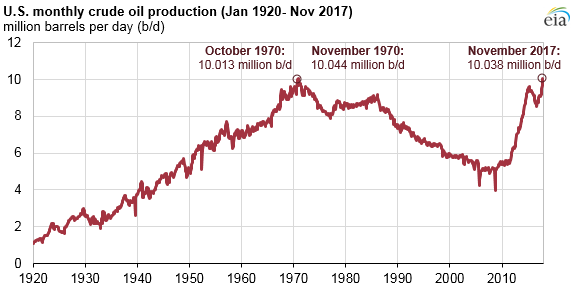 U.S. Monthly Crude Oil Production Exceeds 10 Million Barrels Per Day, Highest Since 1970
Dennis Ulak's Point of View: In November 2017, U.S. oil production hit a forty-year high of 10.038 million bpd. This spike could be attributed to leading edge producers' use of advanced data analytics to obtain better well results at a lower cost.
EIA.gov
HEALTHCARE
Nasty Flu Season Makes Things Worse for Health Insurance Stocks
Chris Maier's Point of View: It turns out health insurance stocks aren't immune to the deadly H3N2 strain of influenza that has struck much of the U.S. in 2018. The flu epidemic, blamed in part on a weaker than usual vaccine, has resulted in increased volumes to hospitals and emergency rooms and an associated uptick in hospital stocks on the heels of a health insurance stock sell-off.
It will be interesting to understand what long-term impact, if any, the 2018 flu season has on middle-market hospitals and ER providers. While many will benefit from sharp volume increases, some private hospitals and ER clinics may face challenges meeting high flu-related volumes (particularly among rural and critical access hospitals). The sort of sudden and unpredictable spike of acute patients caused by H3N2 can exert pressure on cash flow through labor and expense management for these operators.
Bloomberg
ENERGY
Commissioning Underway for ExxonMobil's Ethane Cracker in Baytown, Texas
John Dobbs' Point of View: Earlier this month, ExxonMobil announced the completion of its new ethane cracker, part of a multibillion dollar expansion of its massive Baytown refining and chemical complex. This comes on the heels of Chevron completing its Cedar Bayou ethane cracker, and Shell beginning construction of a $6 billion Pennsylvania facility (conveniently situated near the Marcellus Shale), in late 2017.
These investments are a response to the glut of natural gas in North America due to the shale gas boom. Some estimates put production of ethane at 700,000 bbl/d above processing capacity even after Chevron's and ExxonMobil's crackers come online in 2018. While these moves expand the market by providing additional end use for natural gas, the resource glut is likely to remain.
Houston Business Journal
Is the Marketplace Really What's Killing Coal?
AJ Patel's Point of View: This article lays out various causes for the coal industry's demise, including the free market, government policy, machinery and green energy. The future is not expected to reverse the long-term trend, irrespective of the recent minor uptick in coal mining employment.
Progress in the energy industry has marginalized the importance of certain players like coal participants, while elevating others (e.g., green energy participants). However, the impact of market forces related to cheaper substitutes like natural gas (with more beneficial intangibles) is the driving force behind the market dynamics. The government is often involved later in the process as a supporting actor that reaffirms the market's direction, one that's rarely capable of circumventing market dynamics in the long run.
Mises Institute
AUTOMOTIVE
Robots Rejected: Humans Still Build the Best New Car You Can Buy
Michael Gluhanich's Point of View: Honda and Toyota have evolved their mass production systems over decades of continuous improvement. They firmly believe in a balance between the inherent productivity of robots and the ability of human operators to make judgements, leverage the senses and adapt to process abnormalities. Tesla, meanwhile, believes humans are unnecessary for vehicle assembly and that all manufacturing process steps can be accomplished by robots, pushing its suppliers for faster and more autonomous robotics.
As demand for Tesla's vehicles drives increased output, and the need to manage thousands of product and process variables, it will be interesting to see whether they (and other new entrants to automotive manufacturing) adopt best practices from industry leaders or dismiss them as obsolete thinking.
Bloomberg
Toyota's New Execs See a Crisis
Matt Kazin's Point of View: Toyota's incoming executives are calling out once in a lifetime changes within the auto industry and suggesting the company's survival is at stake. It's a serious message for a company generating record profits with ample cash on hand. However, it underscores the importance of strong leadership and strategic planning for all companies, regardless of their past successes.
Anticipating and adapting to change is critical, particularly in times of rapid transformation. Separately, Toyota's design chief recently said he can envision a future without mass market cars. For a company widely known for selling reliable cars with mass market appeal, this puts into perspective the magnitude of the task that will be required to evolve.
Automotive News
TRANSPORTATION
Trailer Orders Surge to Start 2018, Passing 39,000
Matt Kazin's Point of View: January U.S. trailer orders represented a 22% increase over the prior year and the fifth strongest month on record. Following November and December, which were the third and second strongest months of orders in history, respectively, this suggests continued optimism in the transportation sector.
The tightness in the labor market, high volumes and lengthening backlogs have led to a period of strong rates. Coupled with the expectation of continued GDP expansion, the outlook for rates in 2018 remains positive. However, one hopes the long-term implications of continued historical levels of capacity investment won't have adverse consequences on freight rates and liquidity in future years.
Transport Topics
HURON PERSPECTIVES
Shedding Non-Core or Underperforming Healthcare Assets
For distressed healthcare organizations looking to stabilize revenue and improve efficiency, less is more. Private equity transactions, M&A and joint ventures are three avenues healthcare leaders should consider to eliminate low-performing service lines.
Huron
Contact Us
Paradigm - February 2018
Dennis Ulak

Managing Director

Industry:

Energy and Utilities

Chris Maier

Director

Industry:

Healthcare | Life Sciences | Technology Media and Telecommunications

Matthew Kazin

Senior Director

Industry:

Automotive | Metals and Mining | Healthcare

Michael Gluhanich

Director

Industry:

Automotive | Consumer Products | Manufacturing | Metals and Mining

A.J. Patel

Director

Industry:

Energy and Utilities | Healthcare | Manufacturing