Paradigm - March 2018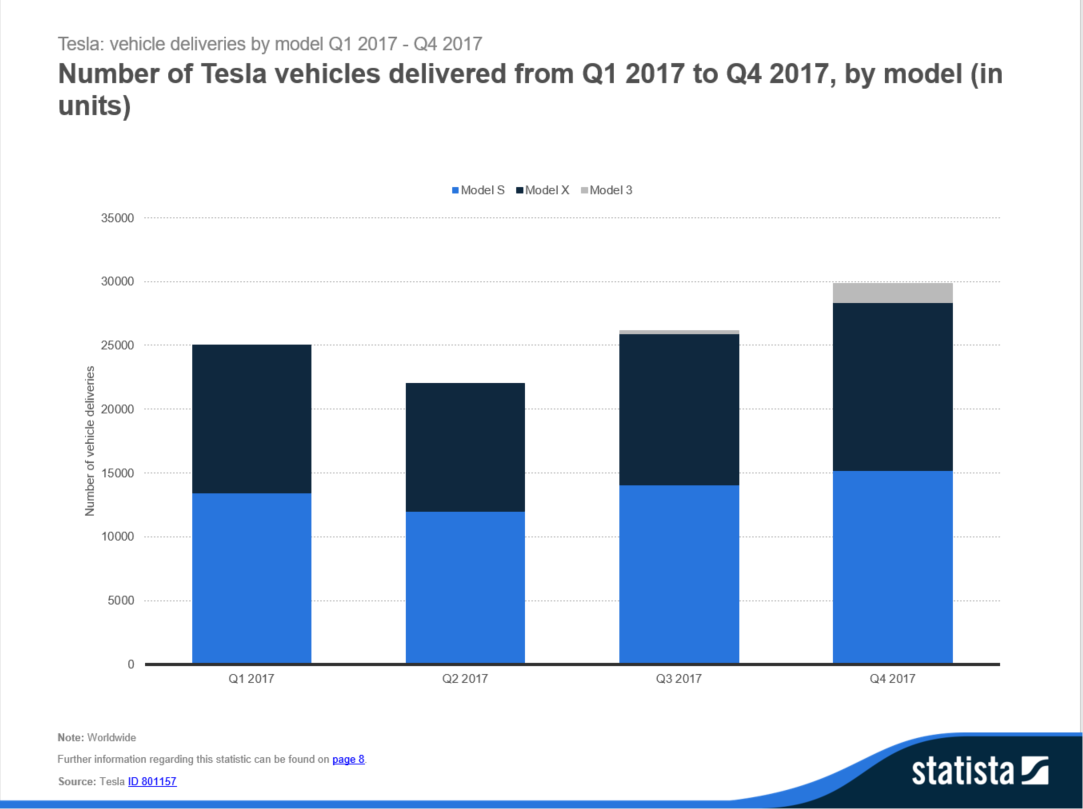 For Tesla, Cars + Cash + Credit + Convertibles = Crunch Time
Ray Anderson's Point of View: Tesla is an incredible fundraiser, but has faced production challenges that—as evidenced by its recent stock price decline—could lead to a cash crunch. According to the columnist, Wall Street analysts estimate 150,000 Model 3 production units in 2018. This seems unattainable in light of historical production rates illustrated by the chart above. Tesla's business and financing model depends on a steady and dramatically increased stream of Model 3s, which is in my view extremely unlikely.
Bloomberg
Retail
Walmart to Bring FedEx Shops Into 500 of Its U.S. Stores
Marc Passalacqua's Point of View: At the ShopTalk conference, Walmart announced a partnership to launch 500 FedEx shops within their stores. The retailer believes this partnership will improve traffic by giving customers another reason to go to their physical stores. The company is expanding the concept after conducting a nationwide, 50-store pilot—an important move that gave Walmart an understanding of the potential traffic impact and ROI before launching a large rollout. Walmart continues to be on the offensive in its fight with online retailers, specifically Amazon; providing additional services through these types of alliances will help differentiate the brand beyond being a low-price alternative for consumers.
CNBC
Logistics
Ben Smith's Point of View: With the narrative around blockchain evolving from one about bitcoin and cryptocurrencies to real world applications in commerce, this article shows its ability to deliver…beer!
In theory, distributed ledger technology should drive efficiencies in the international shipping process (in this case, streamlining the traditional 20 documents required per shipment); this article highlights success across multiple trials. However, the sheer number of touchpoints may impair consistent acceptance across the supply chain. The end result: Let's see if blockchain technology performs and delivers when the intense scrutiny of a trial is over.
The Maritime Executive
Food & Agriculture
Abhi Gupta's Point of View: 2018 farm income is expected to decline 6.7%, and though it is expected to remain flat over the next decade, the real income is expected to decline after accounting for inflation. The sector is experiencing increased leverage and declining working capital, though the situation is well below the peak of the early 1980s. A number of trends are challenging the U.S. food and agriculture industry, including technology advancements (from which productivity gains are outstripping population growth, resulting in depressed prices) and a growing labor shortage of skilled and unskilled workers.
Trade issues are emerging as well. Despite an agriculture trade surplus of over $17 billion last year, recent policies such as the new steel and aluminum tariff and NAFTA negotiation posturing could result in reciprocity and subsequent decrease in exports. Finally, though crop insurance and improved technology provide some protection, continued uncertainty related to weather and disease poses a threat.
The Progressive Farmer
Corporate Restructuring
Corporate America's Undertakers Prepare for Feast After Lean Years
Ray Anderson's Point of View: Multiple signals including falling high yield debt issuances and increased interest and inflation rates indicate that the credit markets are starting to turn. In the recent past, easy credit masked underperformance. Heavily leveraged companies should attack underperformance now or potentially face a day or reckoning in the near future.
Reuters
Huron Perspectives
Higher Education Needs to Get Creative to Ensure a Financially Viable Future
Joint ventures and shared services agreements are two ways higher education institutions can transform in order to offset enrollment and funding challenges.
James Alt, managing director and leader of the retail industry sector for Huron's business advisory practice, recently participated in a Financier Worldwide panel discussing the current state of retail restructuring and steps distressed brands can take to own their future.
Contact Us
Paradigm - March 2018
Abhi Gupta

Director

Industry:

Financial Services | Engineering and Construction | Manufacturing

Ben Smith

Senior Director

Industry:

Manufacturing | Logistics | Automotive

Marc Passalacqua

Senior Director

Industry:

Retail | Consumer Products

Ray Anderson

Managing Director

Industry:

Technology Media and Telecommunications | Consumer Products | Aerospace | Engineering and Construction | Healthcare | Manufacturing