Case Study: University of Kansas Hospital Authority - Comprehensive
Download Now
Contact Us
The University of Kansas Hospital Authority (KUHA) has a long-established reputation for excellence in patient care, research, education, and community engagement. The constantly growing facility of 707 staffed beds serves more than 32,000 inpatients annually.
The Challenge
Leadership at KUHA sought to continue delivering superior care in the most efficient manner and at significantly lower cost. To meet this challenge, KUHA and Huron Healthcare worked collaboratively to enhance productivity, reduce expenses, and improve operational performance in eight primary areas: Clinical Operations, Human Resources, Clinical Documentation, Managed Care, Non-Labor, Physician, Labor, and Facility Life.
Our Approach
Huron worked collaboratively with key leadership and staff to achieve an annually recurring benefit of more than $60 million, against a target of $48 million, plus a one-time benefit of $9 million. This approach also optimized best practice tools and processes throughout the organization, while enhancing a culture of accountability and perpetual performance improvement.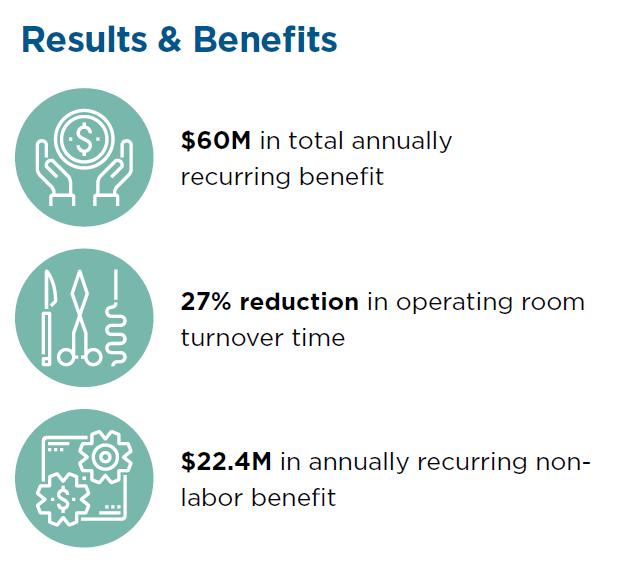 Redesigning Clinical Processes
Huron partnered with KUHA to improve processes and communication in the areas of case management, patient placement, interdisciplinary rounds, care variation management, and performance measurement. Multidisciplinary teams redesigned processes to proactively manage length of stay, while physician-led teams addressed care variation management in key areas.
Using Resources Efficiently
KUHA and Huron identified more than 120 initiatives for improved resource utilization and expense reduction. Clinical utilization and pricing initiatives reduced drug costs; in-sourcing lab testing produced additional savings; and costs were reduced in the areas of medical waste, linen utilization, and the reprocessing of single-use devices in surgery, cath lab, and nursing units. Huron worked with physicians to reduce nonlabor expense items in the practices, redesigning work flow and coverage models.
Optimizing Staffing and Policies
Labor initiatives significantly improved performance without a formal reduction in force. Comprehensive staffing matrices, shift management tools, and detailed work flow analyses contributed to increased efficiency. Huron also worked with Human Resources leadership to improve the hospital's policies and practices in benefits, compensation, absence, and purchased services.
Sustaining Comprehensive Change
Huron's managed care team assessed and implemented a strategy that included exchange products, pay-for-performance metrics, and a data-driven approach to metric-driven contracts. Other areas of focus included clinical documentation improvement and a detailed facility life initiative. Huron's proven implementation approach and a wide range of standardized practices ensures that all results are sustainable.
Download Now