Case Study: The University of Kansas Hospital Authority - CDI
Download Now
Contact Us
The University of Kansas Hospital is a 750-bed level 1 trauma center offering a full range of inpatient and outpatient services.
The Challenge
The University of Kansas Hospital's (KUHA) existing clinical documentation program was not accurately tracking financial and Case Mix Index (CMI) improvement. A long turnaround time on case review meant lost reimbursement opportunities, and physicians and staff weren't consistently leveraging documentation to improve accuracy and profiling scores by accurately reflecting acuity and complexity of care. Leadership sought to address these challenges through the implementation of a leading practice Clinical Documentation Improvement (CDI) program.
Our Approach
KUHA engaged Huron Healthcare for an extensive redesign of the hospital's CDI processes. Huron's CDI solutions ensured that documentation fully and accurately reflects the severity of illness, complexity of care, and resources consumed. The engagement led to significant increases in the percentage of the patient population reviewed, improvements to the physician clarification rate and the physician response rate, and a $10.8 million CDI benefit.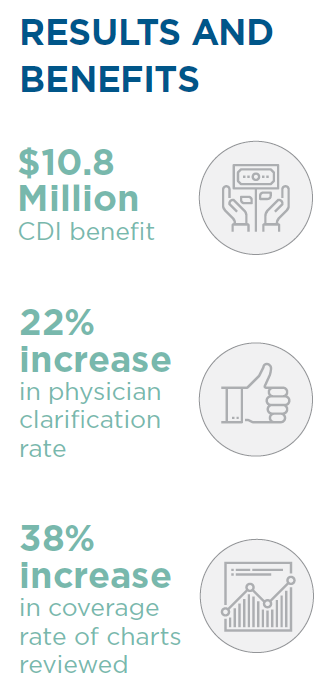 Improving processes: The implementation of Huron's CDI tool helped KUHA accurately track and monitor key metrics. An improved daily process flow delivered a consistent and clear structure for CDI activities, while training for physicians and staff helped cement best practices and overcome resistance to change. Key to the project's success was Huron's work to transition CDI staff from a satellite location to the hospital, where they work face to face with physicians and hospital staff – improving documentation accuracy and increasing physician engagement.
Increasing reimbursement: Huron helped KUHA improve reimbursement by increasing the accuracy of severity of illness documentation and improving the turnaround time on case reviews. Huron's CDI tool helped KUHA accurately identify the CDI program's financial benefit. The implementation of these process changes and tools led to a $10.8 million CDI benefit.
Engaging physicians: Huron worked to engage physicians in CDI processes and educate them about the impact of documentation on reimbursement at the hospital level, as well as at the clinic level. The engagement led to a 22% increase in the physician clarification rate.
Improving quality and profiling scores: Improvements in documentation accuracy increased CMI by 4.1% over the previous fiscal year and helped increase quality and profiling scores. KUHA also engaged Huron to conduct periodic education sessions and reviews of records to ensure the improvements are sustained.
Download Now