Case Study: Trinity Mother Frances - Care Access
Download Now
Contact Us
Trinity Mother Frances is a $600 million net patient revenue three-hospital system located in Tyler, Texas, offering a comprehensive range of primary and specialty services. The health system includes an integrated 340 physician network (Trinity Clinic) and numerous outpatient facilities and services.
The Challenge
Trinity Mother Frances (TMF) faced challenges regarding the effectiveness of their centralized scheduling solution. Leadership recognized a need to address patient and referring physician satisfaction issues around access and scheduling, and needed a solution that would support effective and appropriate patient care in an increasingly competitive environment. They also sought bottom line financial improvements associated with optimized access to care.
Our Approach
TMF engaged Huron to optimize and expand the system's centralized scheduling unit. Starting with a comprehensive assessment and following through with implementation activities, Huron developed a best-practice care access structure that delivers significant improvements in key metrics and communication, and drives increased gross revenue.
According to Darin Szilagyi, Chief Marketing Officer and Chief Access Officer, "Patient access is a complex issue for integrated systems. Huron showed us that not only can it be optimized, you can demand excellence. With their expertise, practical solutions and measurement tools, we've achieved significant change – benefiting our patients, physicians, and bottom line."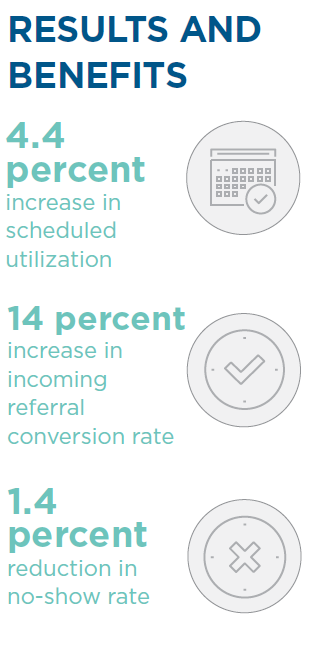 Refining workflow
Huron worked with TMF to define best-practice workflows and develop a roadmap to support future TMF-led expansion of care access centralization efforts. The roadmap encompassed communication management, staffing models, technology considerations and service level agreements, and included defined timelines for all activities.
Improving system-wide communication
Working collaboratively with physicians, leadership, and call center staff, Huron defined TMF's operational workflow between call center teams and stakeholders. These steps helped overcome barriers to effective collaboration and communication, and led to improved outcomes for patients, including a 63 percent reduction in internal referral turnaround time.
Improving performance and accountability
Through new performance metrics, reporting solutions, and defined ownership of key access work functions, Huron helped TMF improve transparency, staff performance, and scheduling outcomes. Results include a 4.4 percent increase in scheduled utilization and a 1.4 percent reduction in TMF's no-show rate. The development and rollout of service level agreements supported additional improvements in communication and accountability.
Enabling Technology
Huron developed and implemented a comprehensive access dashboard focused on key performance metrics to support executive and management level reporting, as well as staff and management accountability.
Download Now