Case Study: UCLA Health System
Download Now
Contact Us
The UCLA Health System is renowned for the treatment of complex illnesses and provide high-acuity care across all disciplines of medicine. The system includes the 540-bed Ronald Reagan UCLA Medical Center and the 266-bed UCLA Medical Center, Santa Monica.
The Challenge
Given its reputation for excellence, the UCLA Health System has experienced increasing demand for its clinical services. Ronald Regan UCLA Medical Center and UCLA Medical Center, Santa Monica have typically operated at very high capacity. UCLA leadership recognized that meeting this growing demand would require Ronald Reagan and Santa Monica to operate seamlessly at the highest level of efficiency.
Our Approach
Huron implemented Care Transformation solutions at both Ronald Reagan and Santa Monica. The engagement focused on improving communication and coordination at every stage of a patient's progression, from bed request through discharge. Huron's solutions created an accountability structure that allowed leaders to measure and improve performance, drive rapid results and increase capacity.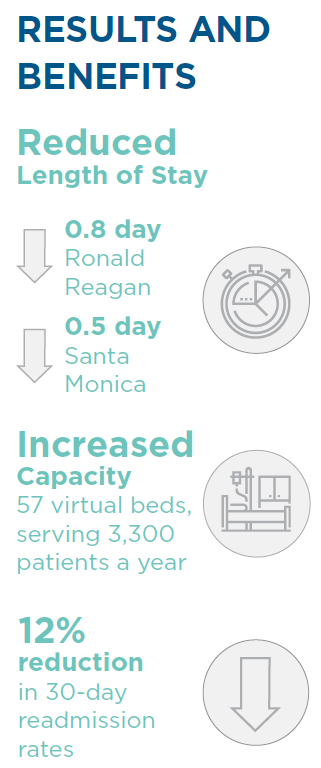 Reducing length of stay
Huron helped build on UCLA's internal patient flow initiatives by identifying substantial improvements to move patients through the system more effectively. The engagement created a system-wide approach that began generating results before the solution was fully implemented. The Huron engagement resulted in a 0.8 day reduction in length of stay (LOS) at Ronald Reagan and a 0.5 day LOS reduction at Santa Monica.
Increasing patient and staff satisfaction
While UCLA had very positive patient satisfaction before the engagement, Huron's solutions resulted in measurable improvements in communication between patients and providers. The readmission rates for Ronald Reagan and Santa Monica decreased – demonstrating improved care quality.
Huron also implemented daily interdisciplinary rounds and weekly clinical high risk meetings, providing a structure to focus on each patient's plan of care. Huron's ability to collaborate with UCLA's clinical staff was key to the project's success. After the engagement, UCLA saw a 5 to 15 percent increase in physician and nurse satisfaction scores.
Delivering sustainable results
Huron's proven ability to deliver sustainable results was crucial to UCLA's clinical goals and educational mission. The processes and metrics that Huron put in place, including a robust data dashboard, have allowed UCLA to expand on the gains made during the engagement.
Download Now