Case Study: Unity Hospital
Download Now
Contact Us
Unity Hospital, part of Unity Health System, is a 321-bed nonprofit hospital offering a broad range of specialty services.
The Challenge
Unity Hospital had completed several internal capacity management initiatives that generated short-term results. However, leadership recognized the need for an external partner to assist them in achieving greater and more sustainable improvements in efficiency and effectiveness, and to reduce inpatient length of stay (LOS) and care variation in some of the hospital's highest volume diagnosis-related groups (DRGs).
Our Approach
Huron worked closely with Unity to identify and act on a variety of opportunities for LOS reduction. This included improvements in patient placement procedures and restructuring of interdisciplinary care communication processes. It also included reductions in clinical care variation among the physician, nursing and ancillary staff and improvements to clinical operations practices.
Reducing length of stay
Huron helped Unity implement interdisciplinary care team meetings on eight medical/surgical units, the emergency medical observation unit and the intensive care unit. These meetings, along with the hiring and training of a physician advisor, improved overall care team coordination and helped reduce average LOS by 0.98 days per patient.
Improving case management
By implementing a best-practice care management model, daily interdisciplinary care rounds and weekly clinical high-risk rounds, Huron helped Unity improve discharge planning and resource utilization. Results include increased consistency and a 16 percent reduction in inpatient days.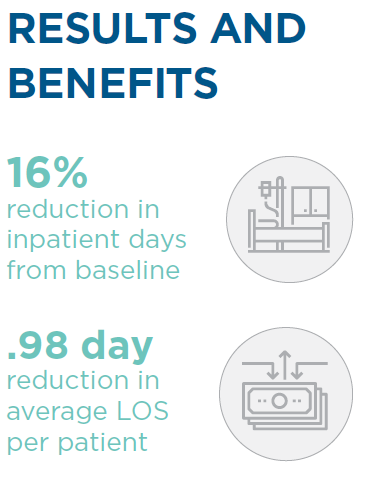 Managing care variation
Huron established a new care variation governance structure at Unity and new standards of care for conditions such as COPD, sepsis, pneumonia and heart failure, as well as a foundation to continue work in other DRGs. These changes, along with concurrent and retrospective dashboard monitoring practices, led to improved consistency and efficiency in care variation management, as well as improved resource utilization and patient outcomes. Direct variable costs were monitored during this period, and decreases of up to 16 percent per DRG were observed. Reductions in mortality, 30-day readmission rates, complications, and the clinical variability of both physician and nursing care were all demonstrated.
Redesigning capacity management
Through new capacity status reports and processes, a patient placement matrix and the implementation of a new capacity management tool, Huron helped Unity improve consistency and efficiency of placement processes, ensuring that patients are placed in the most appropriate beds faster.
Results & Benefits
"The Huron project generated results that we'd struggled to achieve on our own. They taught us a great deal, while fully leveraging our existing talent and expertise. Today we're a more effective and efficient organization with the discipline and tools necessary to continue improving in the future," said James Haley, M.D., chief medical officer, Unity Hospital.
Download Now