Healthcare: Your Operating Model Will Change When Preparing For the Cloud
Manoj Krishnan and Lucille Sims
Contact Us
How moving to the Cloud impacts IT
Moving to the Cloud impacts the world of IT in many ways ― the infrastructure and information integration landscape, the makeup and skills of the IT workforce, the governance and interaction model with clinical and business users and more. One way to think about dealing with disruption is how healthcare IT must transform the traditional operating model.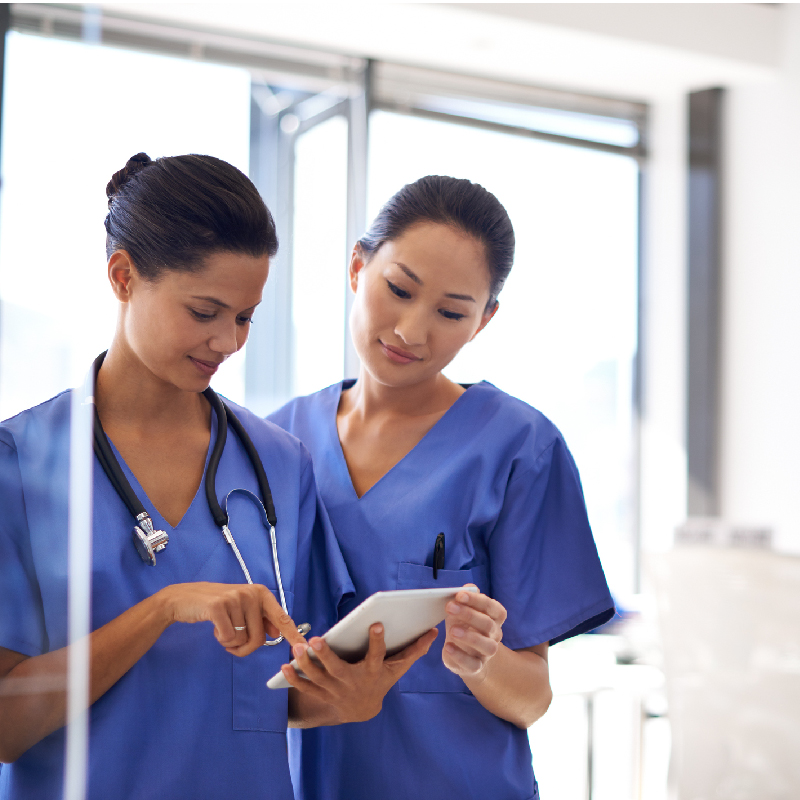 What, you might ask, is an operating model? Most people confuse it with an organizational model. The operating model focuses on supporting the organization by associating key functions with purpose, accountabilities and key performance indicators, while the organizational structure focuses on people, titles and hierarchy. The traditional healthcare operating model consists of IT and other vertical clinical and business units organized around applications. Healthcare organizations must objectively view the operating functions required to manage an organization across a range of domains. Let's consider the challenges likely to arise with cloud technologies.
Key Questions:
Many healthcare systems and hospitals grapple with the complexities and disruption resulting from migrating to the Cloud. Two of the early questions the workforce typically raises are, what does this mean, and what will my role look like after the Cloud?
Leadership must consider these questions:
What is required to support a cloud-based environment?
What kind of skillsets does the organization need? Will the organization have the right skill mix to support a hybrid environment that includes migration to the Cloud? How should the organization handle workforce transformation? (These questions particularly affect healthcare, considering that both IT consolidation across healthcare systems and integration across traditionally vertical domains continue to impact the organization's ability to manage IT operations and end-user satisfaction effectively.)
How should the organization fund IT moving forward given the shift from capital to operating expenses? (This shift is a net positive in improved predictability and smoother cash flows, but may affect the overall margin of the IT and healthcare organizations.)
Is the benefit solely financial? (This often not the case. Potential efficiencies realized by the clinical and business aspects may far outweigh the IT cost, which means that business cases cannot be narrowly defined to include the cost benefits from IT alone. There must be acknowledgement that clinical and business benefits beyond cost may also drive migration to the Cloud.
What is the impact to the clinical and business processes? (Healthcare IT must prepare to manage an interdependent solution that could affect the health system operational processes in ways that are arguably more disruptive than just the impact to IT.)
How does IT continue to increase and manage more self-service applications and analytics? (The Cloud accelerates self-service and may also increase "shadow IT." This trend of cloud and self-service will test IT's ability to govern effectively without stifling innovation.)
How does IT manage cloud-based information stores as a component of the extended enterprise?
These questions lead us to the operating model. While there may be several organizational structures, healthcare organizations must focus on redefining the operating model. For example, certain functions and capabilities are more significant in a cloud-based ecosystem, including:
Vendor management
Clinical and business analysis and functional knowledge
Clinical and business end-user relationship management
Change management
Risk management and governance
Enterprise architecture
There's less of a need for developers and maintenance personnel and more of a need for clinical and business analysts, relationship managers and enterprise architects. The IT department adopts a more customer- or end-user-centric role, assessing internal processes and needs, mapping them to vendor solutions, architecting hybrid environments and managing the transition and implementation lifecycles.
"One of the first questions the healthcare IT workforce typically raises is what does this mean, and what will my role look like after the Cloud?"
Technical capabilities and skills are needed, especially regarding integration abilities that enable interoperability of the Cloud with other critical enterprise systems, such as data warehouses and business intelligence solutions. However, this skillset often does not reside on a sufficient scale within an organization that has been entrenched in multiple, distinct legacy systems.
Redefining the current state must also include keeping your finger on the pulse of the future as technologies evolve. Large-scale transformations driven by technology evolution can, and often do, disrupt the business. But a healthcare organization that understands the functions required to support its operating model (current and future) will be better positioned to offer its employees clear paths forward, including retraining, reassignment and, yes, in some cases, attrition.
Want to learn more about moving to the cloud? View the Cloud roadmap.
About the Authors
Manoj Krishnan is a director in the strategy and operations practice with 10-plus years of consulting experience in the IT strategy and transformation disciplines across a range of industries, including high tech, financial services, manufacturing and higher education. He has focused on IT capability assessments, formulating IT operating models, governance and service delivery models to achieve IT transformation. He understands IT financial management, having conducted IT spend analyses and cost-reduction campaigns, quantified the benefits of consolidation, and designed and advised clients on service costing, pricing models and sustainable funding strategies.
Lucille Sims, M.S., R.N., has more than 30 years of progressive healthcare experience focused on hospital operations, consulting and IT. She has worked with large health systems, academic medical organizations, children's and community hospitals and physician groups. Her expertise includes clinical, business and IT strategy and financial planning: integrated shared services; program and project management; process redesign; benefits realization and application management. She has led engagements of all sizes that formulated and implemented clinical and business solutions based on strategic goals, user requirements, system applications and healthcare industry requirements.
Contact Us
Healthcare: Your Operating Model Will Change When Preparing For the Cloud
Jason Moebius

Managing Director

Industry:

Higher Education | Healthcare