Making Benchmarks Matter: Identifying Opportunities
Contact Us
Contact Us
In healthcare, standardization is a fleeting concept, and variance is more the norm than the exception. Yet the industry is awash in performance measures and benchmarks. Many of these measures are government mandated, but others are self-imposed. The challenge is for organizations to prioritize discretionary benchmarks, interpret the data correctly and optimize it, all while attending to their core work of day-to-day patient care. That requires identifying and acting on opportunities in the gap between actual performance and benchmark performance, and focusing on the benchmarks most closely related to patient engagement and outcomes.
"The difference between current performance and the standard is a variance, and only a percentage of that variance is the true opportunity for improvement."
Benchmarks in healthcare are a means to measure performance against internal or external standards so that hospitals can examine and act on the variances. Identifying standards is much harder in healthcare than industries that are more consistent and standardized. So reducing variance in healthcare and choosing the right benchmarks to do that are significant challenges.
In addition, organizations can misapply benchmarks by comparing themselves to a standard and believing the goal is to trim costs or improve quality to hit or exceed the mark. Healthcare executives may think the delta between the performance and the standard equals the opportunity for improvement. The reality is that the difference between current performance and the standard is a variance, and only a percentage of that variance is the true opportunity for improvement.
One way organizations can identify that opportunity is by drilling down into internal data. For example, if an organization has a cost per diagnosis of pneumonia that is 25% higher, it could identify areas for improvement by analyzing and comparing its internal departments or providers. From there, it could pinpoint resources, tools and training for its professionals to address the opportunities for improvement.
Organizations can also use external benchmarks to dig to a more granular level. If the actual cost per diagnosis is high, external benchmarks could be used to compare actual costs and utilization levels to the benchmarks in order to find variances at the service level — nursing labor, supply chain, and so on.
The Volume Challenge
Benchmarks pose another challenge because of the volume required by the government. In the federal area for just acute care hospitals, there are four quality measurement and reporting programs (see Measuring Inpatient Hospital Quality in 2017, below). The Centers for Medicare & Medicaid Services (CMS) estimated in 2016 that it would penalize more than 2,500 hospitals for excessive readmission rates in fiscal year 2017. Hospitals around the country are investing billions of dollars in tracking benchmarks and improvements designed to boost their scores.
Many are struggling with such efforts. In a June 2016 survey, only 23 percent of hospitals reported being on track to achieve the goal set by the Department of Health and Human Services to tie 50 percent of Medicare payments to a value-based payment model by 2018.1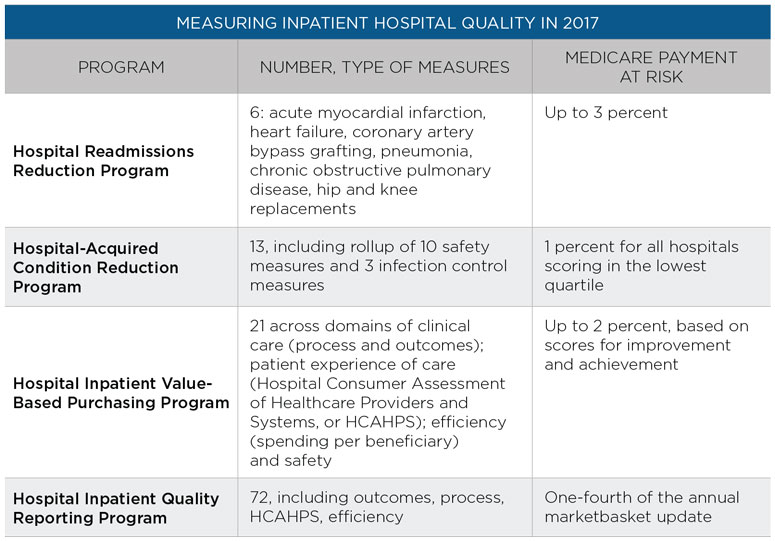 Quality and Financial Benchmarks Overlap
Healthcare organizations should select key cost metrics, as well as quality metrics, to benchmark. Granted, quality and cost are two different areas, but low cost and high quality are correlated. Organizations with lower costs generally have higher quality because they drive more standardization.
An academic medical center in the Northeast successfully combined metrics for cost cutting and higher quality through standardization, for example. The system aimed to cut USD 125 million from its operating budget over three years, in anticipation of reimbursement cuts from Medicare and Medicaid. Knowing that cost cutting that compromised quality would undermine its reputation, the system improved its performance in generating value for patients by managing care variation.
Financial benchmarks deal with labor spend, spend per admission, spend per surgical case and so on. They are of course more straightforward than clinical benchmarks because they don't pertain to the variability of patient care. Financial benchmarks, including labor, supply chain and physician productivity data, are readily available from associations, group purchasing organizations and consulting firms. They are also key to success in bundled payments, through which providers join to deliver episodic care for a single payment.
Driving Outcomes and Engagement
Some organizations mistakenly concentrate on benchmarks needed for regulatory compliance instead of on those that most affect patients and directly relate to patient health. Consumerism has made healthcare performance data much more publicly available, and patients are increasingly using it to make healthcare decisions. Given that, organizations should invest in decision support systems, which allow them to benchmark at the physician and service line level, and use this data to continually reduce variation.
It's also critical to engage physicians, who still have autonomy in care delivery and should be viewed as partners. If you engage clinicians thoughtfully, especially from a quality standpoint in which you're trying to solve their problems instead of dictate patient care, you'll learn about their challenges and barriers. In fact, physicians commonly ask hospital administrators for cost data, because they want to see how their numbers compare before their data goes online in public forums. Because of this increased interest and aligned incentives, many health system executives are teaming with physicians to improve care and reduce costs.
Given finite resources, healthcare leaders should prioritize what matters most in driving better outcomes in their organizations. That process requires interpreting targeted benchmarks and identifying and acting on opportunities, especially in areas that affect patients the most.
1 "Survey: Hospitals Progressing Slowly Toward Medicare's Goal of 50 Percent Value-Based Reimbursement by 2018," Health Catalyst, May 9, 2016.



Contact Us
Contact Us
Contact Us
Making Benchmarks Matter: Identifying Opportunities
Dan May

Managing Director

Industry:

Healthcare

Read My Bio