Webinar: 'Success in Bundles During Tumultuous Times'
Watch Webinar
Contact Us
Bundled and episode-based payments represent a dramatic shift from fee-for-service payment models. Under bundles, healthcare organizations are accountable for value outcomes — for example, quality of care and patient satisfaction — and these outcomes become measurements that affect profitability and reimbursement. This form of value-based care also imposes a guarantee-like period, as payments must account for all related care that takes places within 60-90 days of an intervention related to bundles (e.g., surgery).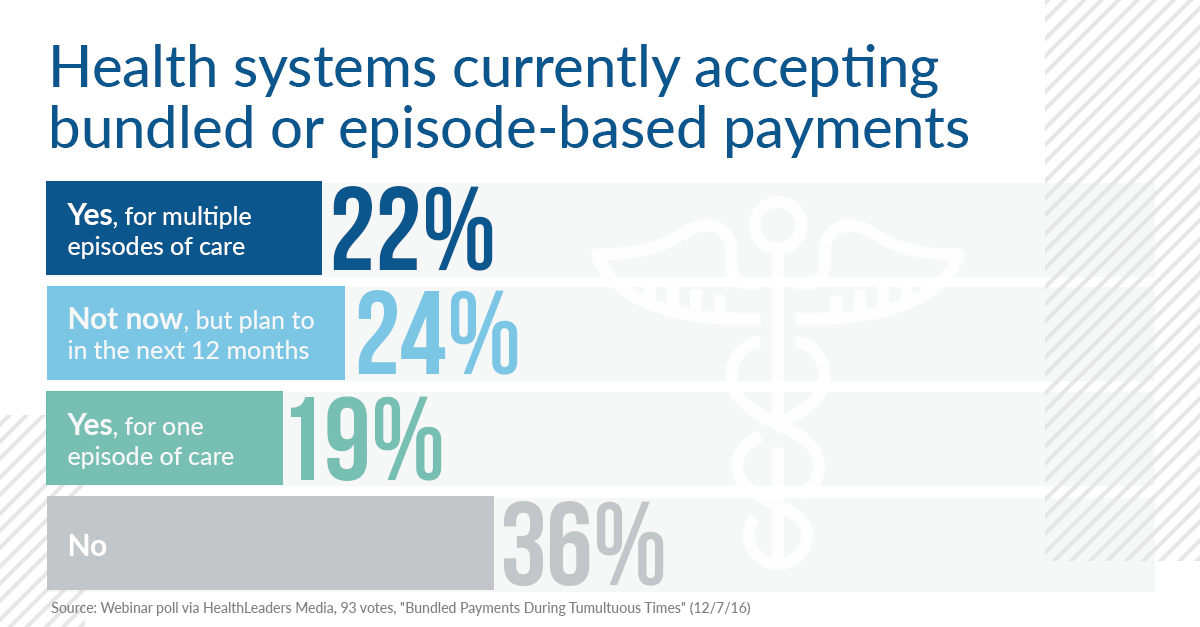 "Bundled payments is one of those topics that keep senior executives up at night. They are concerned about the shifting reimbursement model and the increasing financial risk placed on providers," said Hazel Seabrook, a Huron managing director. "There is a need to continuously improve operations and quality by reducing variation, and this will help address the shift."
In the past, typically, patients were ushered through "siloes of care." A physician, for example, might have determined a patient needed surgery. The surgery, then, would be performed at a hospital. And subsequent post-acute care would happen at a rehabilitation facility, a skilled nursing facility or a caregiver home. Each interaction — with the physician, the hospital, the post-acute care — was considered a separate event, and each was paid as a separate event. Siloed care has contributed to variation in both cost and care.
As a solution, health systems can begin by creating an optimal, holistic care experience – a strategy that requires clinical and financial capabilities that help drive:
Cost and margin management
Provider alignment and integration
Clinical variation management and care coordination
Patient engagement
Holistic Care Experience in Practice
Yale New Haven Health System (YNHHS) established a holistic care best practice when, in 2012, it set out to cut USD 125 million from its operating budget over the next three years.

In the webinar, colleagues Steve Allegretto, CPA, MPH, system vice president of value innovation and strategic analytics, and Mary O'Connor, M.D., orthopedic surgeon and director of the Center for Musculoskeletal Care at YNHHS, detailed how, rather than cut costs, financial and clinical interdisciplinary teams combined efforts and expertise to focus on driving value for the patient by reducing clinical variation within their orthopedic care program. Working together, the interdisciplinary teams set a strategic framework for building successful analytical, clinical and operational models across the continuum.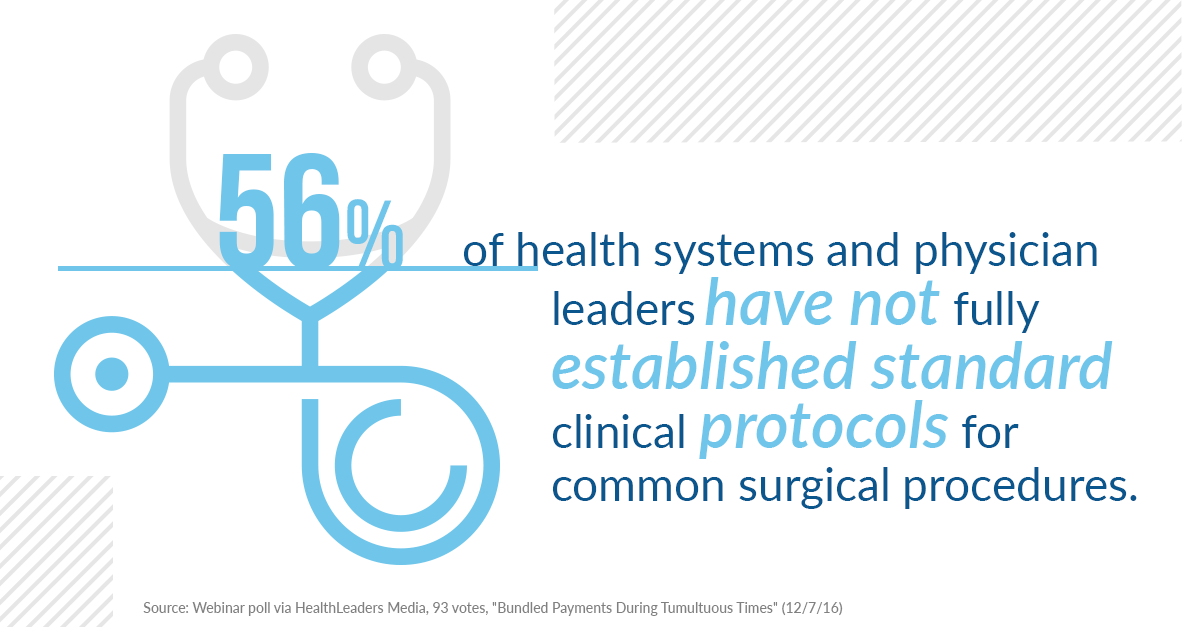 Holistic care extends beyond the acute care setting. An area often ignored by hospitals and physicians, post-acute care was identified as the largest contributor to overall care variation, according to a 2013 report by the Institute of Medicine.1 Participating in our webinar, Christopher Day, senior vice president for strategy and care management at Kindred Healthcare Inc., the largest owner-operator of post-acute care services in the U.S., identified and explained five characteristics of effective post-acute care management.
Appropriate site placement
A high-performing network of quality post-acute care providers with significant clinical oversight
Appropriate length of stay
Low readmission history
Effective transitions to home and care in home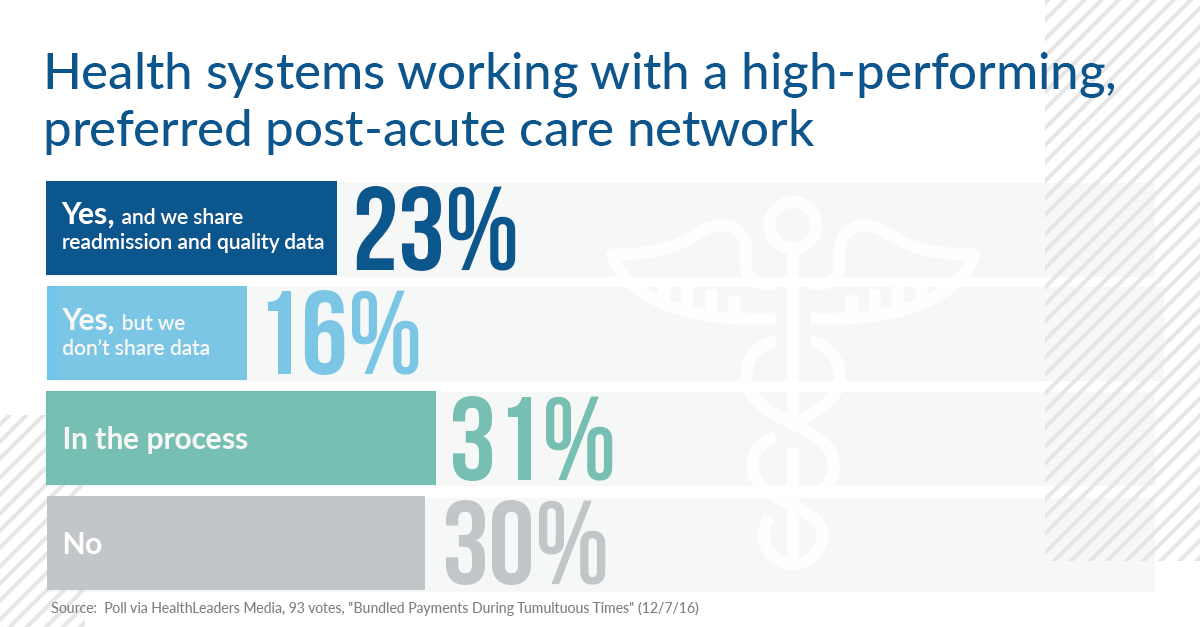 References
1. Newhouse et al., "Geographic Variation in Medical Services," New England Journal of Medicine, April 2013.
Watch Webinar
Watch Webinar
Contact Us
Webinar: 'Success in Bundles During Tumultuous Times'
Hazel Seabrook

Managing Director

Industry:

Healthcare