Department Chair... Not It!
John Kaiser
Contact Us
Contact Us
Flip the script on your university's service delivery model.
Why have the academic department chair structure and roles and responsibilities gone virtually unchanged for decades? Is the department chair structure a rite of passage, a means of earning your stripes? If it is a critical role to the success of a college, department and its programs, why is it filled so often by drawing straws or taking turns?
Huron's hypothesis: The administrative minutia and supervisory responsibilities that come with it.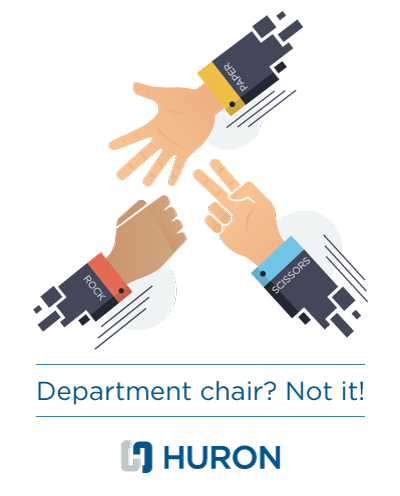 Taking on the management of support staff responsible for human resources, finance, research administration, communications, marketing, IT and many of the underlying processes, and cycling through chairs every three years is not sustainable. Nor is it an effective use of resources. When you look at what value department chairs can add to an organization - aligning efforts to focus more on the development, delivery, evaluation and modification of academic programs - student support would be a more strategic use of their time and expertise.
It's time to flip the script by optimizing your service delivery model. Instead of department chairs supervising staff who are providing administrative support, they should be serviced by staff who are knowledgeable experts and who provide more consistent, high-level support. Those staff should be supported and managed by functional area experts who are ultimately responsible for assuring chair and faculty needs are met.
Faculty: You have an opportunity to change the status quo. Rather than figuring out how to make the system work for you, think about transforming your support organization to better support the pursuit of your mission. A service delivery redesign brings in staff who know what they are doing so department chairs can focus on what really matters - creating the university of the future. By removing the responsibility for the administrative minutia that often plague the role of the department chair, the position can be more effective in supporting the objectives and vision of the department, school and institution.
Contact Us