Five Trends from NACUBO 2018
Contact Us
The National Association of College and University Business Officers (NACUBO) Annual Meeting offered insights on trends affecting higher education.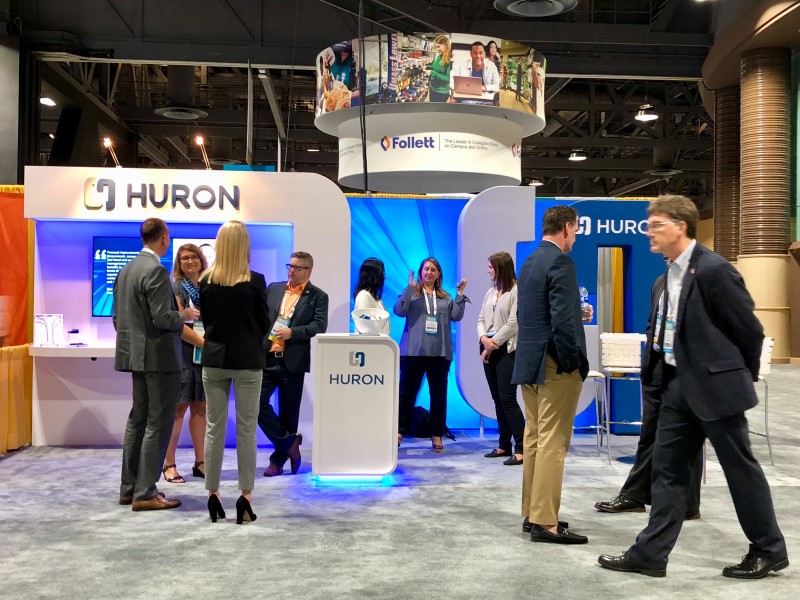 Data, disruption and financial success were top of mind at the NACUBO 2018 Annual Meeting. The four-day event was full of networking and learning opportunities focused around the theme of "Anchored in Culture, Ingenuity, and Pride." Participants were able to attend more than 80 keynote speaking sessions, panel discussions and special events. Continue reading for our take on the top trends from this year's meeting.
Several trends emerged from the 2018 NACUBO Annual Meeting.
1. Discovering higher education's changing business model. As growing numbers of colleges and universities face challenging financial conditions (in some cases even pushing them to the brink of closure), mergers and acquisitions are becoming an increasingly common consideration, alongside cross-institutional partnerships and other forms of risk sharing. In recent months, we've spoken with a number of small private institutions that have considered closing, merging or partnering to share resources and distribute costs. At the same time, we've helped public systems consider their strategic options for consolidating campuses and reimagining their business models and operating strategies. Read more.
2. Managing change within your institution. Higher education provides unique challenges to implementing disruptive change. However, leaders can successfully inspire and implement change at their organizations by engaging teams and effectively communicating. Communication needs to go beyond the "what" and "how" and start with the "why." It requires the business case for action to be put in an individual's frame of reference and it involves cascading messaging and feedback loops. Read more.
3. Using data to uncover academic cost savings. Colleges and universities are operating in a time of financial uncertainty. In the past, when faced with these challenges, higher education leaders would approach budgeting by cutting administrative costs. This is no longer a sustainable option for where the future of higher education is headed.
In order for institutions to remain financially stable, they must adopt new practices to face today's challenges. Academic offerings make up 45-55 percent of an institution's total expenditures. Yet, many colleges and universities have little to no visibility into the profitability of these offerings. Understanding the cost of delivery across offerings is an essential part of academic planning. Read more.
4. Investing in higher education's financial future. As declining enrollment and escalating cost structures threaten the financial viability of mid-tier institutions nationwide; higher education leaders have a unique opportunity to transform. By making proactive, strategic choices today, board of directors, C-level executives and faculty can sustain their institutions for years to come, by being proactive and strategic decision makers today.
Colleges and universities have always been hubs for innovation, creativity and critical thinking. Now more than ever, institutions need to harness those qualities internally to generate stability and growth in the years to come. Read more.
5. Understanding cybersecurity and data governance for higher education. Colleges and universities unearth wide discrepancies among departmental data, submit inaccurate data to institutional research and struggle to steward the data they need to manage their business and plan for the future. The quantity of data is no longer the problem. Departments across every campus collect data, whether formally or in homegrown departmental shadow systems. This is where the problem lies: Data is ubiquitous and plentiful, but it's rarely organized, standardized or leveraged for a common purpose. Read more.
To learn more about these topics and to connect with Huron, follow us @Huron for up-to-date webinar, events and speaking arrangements, and subscribe to our monthly Future of Higher Education newsletter.