Internal Controls for Compensation: 3 Key Takeaways
Zachary Belton, Brian Korblick
The webinar Internal Controls for Compensation: Payroll Review Methodologies and Implementation Strategies discussed requirements for after-the-fact review of interim changes, standards for single audits and strategies for successful internal controls processes. The conversation also explored the decision making process for institutions when alleviating their administrative burden.
When building out internal controls with the Uniform Guidance (UG), there's a lot to consider.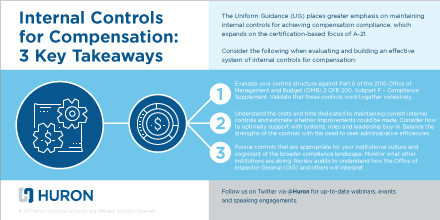 To learn more about internal controls and other impacts of the UG, subscribe to Huron's Clinical Research Management Briefing weekly newsletter. Follow @Huron on Twitter for up-to-date webinars, events and speaking engagements.
Contact Us