Scared of Shared Services? You're Already Doing it
Jonathan Krasnov
Contact Us
Contact Us
"I've wanted to pursue shared services for years," one CFO recently told us, "But I don't want a revolution." Guess what? Your institution may already be doing it.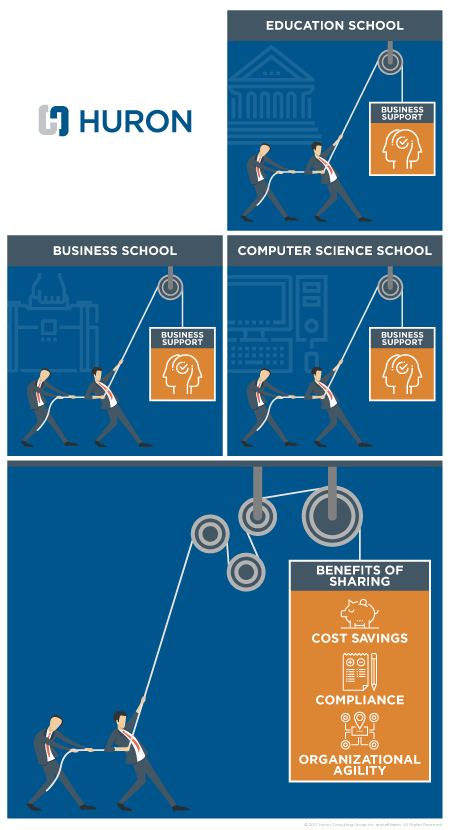 At a recent university client, we identified eight isolated instances of shared service consolidations on campus that had been initiated in the past few years for finance and HR support, including: three colleges/schools, three administrative divisions and two separate clusters of research centers. Each of these efforts required substantial effort by the unit leadership, and the transformational change presented challenges to both faculty and staff. Isn't this a good thing? Well, sort of - the university ended up with eight flavors of torture and only a fraction of the treasure.
In fact, this scenario highlights the perils of what we call "asynchronous efforts":
Reduced Economies of Scale: If you have eight different service delivery models, with up to eight sets of processes and versions of accountability, you have not fully realized the economies of scale and you have not set yourself up for future scaling.
Exhausted Capital for Change: Your growing pains may have yielded a better service model for faculty and staff, but universities are also turning to shared business support models to help relieve long-term cost pressures. The question then is how will these units react if/when university leadership asks them to undergo a second transformational effort to pursue additional savings? Will you have turned potential willing partners into your most intransient constituents?
Driving transformational change matters. Our understanding of the functions supporting your mission enable us to partner with your team from assessment through implementation. With insight from our work with more than 500 higher education institutions, Huron is focused on developing best practices and a tailored solution that is right for your university.

Contact Us