Cloud Transformation Begins with the Right Strategic Partner
Joy Walton
Download Infographic
Contact Us
The Higher Education Landscape is Changing Dramatically
"Overall, we have seen that deploying cloud technologies can transform and modernize universities so that they are able to better meet the needs of their students and stakeholders." Randy Hendricks, Senior Managing Director at Huron
Persistent economic pressures and a changing marketplace are pushing higher education institutions and their leaders to think differently. Increasing operational costs, declining revenues and higher constituent expectations are creating uncertainty in the industry, and yet these challenges bring opportunities for institutions to transform and innovate. Investing in new technology solutions and embracing cloud-delivery models is a fundamental part of doing this successfully. Cloud software can improve business efficiencies, reduce operational costs over time and increase institutional agility. Huron partnered with Ovum to develop a whitepaper and infographic highlighting how a cloud migration opportunity can serve as a platform for strategic change.
No Longer If but When
Driving your own future during periods of change requires institutions to become more innovative and agile in their approaches to delivering education services.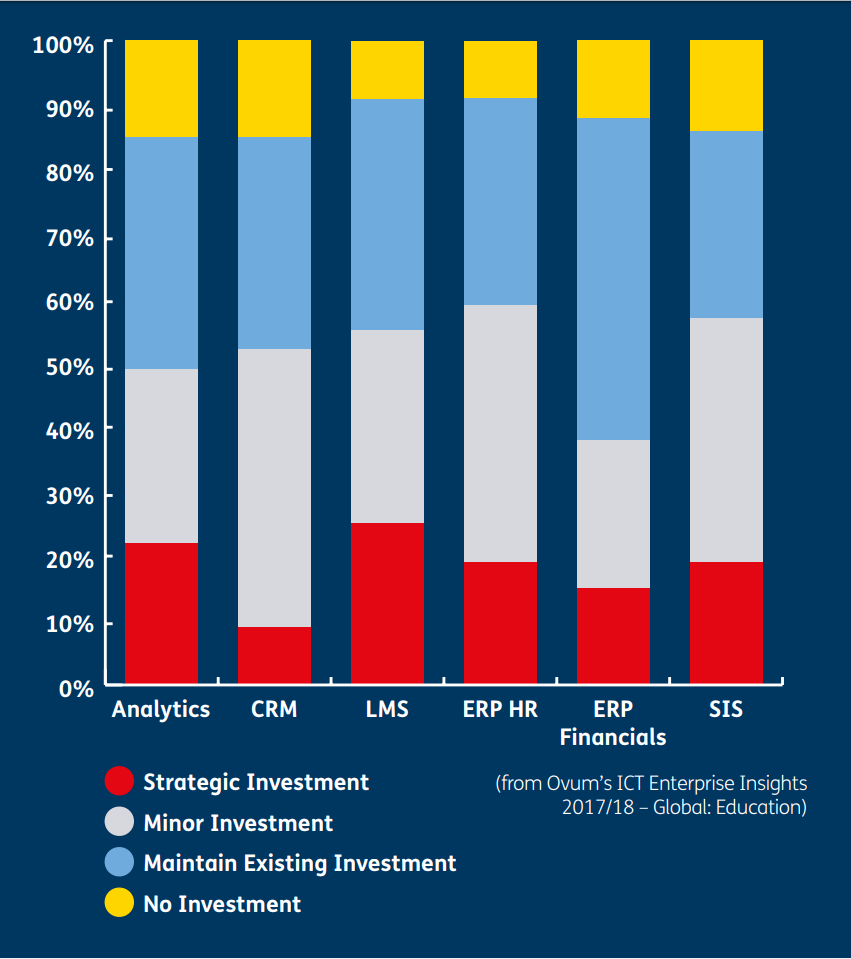 Technology plays an important role in helping institutions navigate change more successfully, and it can address – and even solve – many of these issues. Ovum predicts that 40 to 50 percent of U.S. institutions plan to invest in or upgrade their current solutions in the next 18 months.
Of these numbers, Ovum foresees that much of this investment will go to cloud-based applications and solutions. As of 2017, around 20 percent of U.S. higher education institutions were leveraging cloud technology – and that number is projected to rise. Not only are more institutions migrating to the cloud, but they are also spending more on cloud-based infrastructure and application services. Overall, expenditures in this area are expected to increase from $309 million in 2015 to $1.03 billion by 2021 – that's a compound annual growth rate of more than 22 percent.
Maximize Your Investment by Selecting the Right Partner
It is not only about what technology an institution selects, but also how it is used – and selecting the right implementation partner maximizes that investment. The right partner brings expertise and support that will fuel institutional transformation efforts rather than just getting to "lights on" successfully. Ovum advises institutions to evaluate potential partners across both vertical and horizontal capabilities to ensure their ability to manage both the technical and change management aspects of a more strategic approach to cloud migration. The partner you select should have the ability to support your entire journey – from conceptualization through institutional transformation.
When selecting an implementation partner, seek one that:
Understands your institutional goals and mission
Recommends plans that support research activities and core business functions
Manages technical and change management aspects of cloud migration
Recognizes migration pain points and offers constructive solutions
Learn how your institution can use its cloud migration as an opportunity for true institutional transformation by downloading our infographic.
Download Infographic
Download Infographic
Contact Us
Cloud Transformation Begins with the Right Strategic Partner
Joy Walton

Managing Director

Industry:

Higher Education | Healthcare | Technology Media and Telecommunications