Case Study: University of Virginia Medical Center - Clinical Operations
Download Now
Contact Us
The University of Virginia Medical Center is a 570-bed Level 1 trauma center with 27,000 inpatient stays each year.
The Challenge
With Operating Room (OR) utilization trending above 85 percent, University of Virginia Medical Center (UVMC) leadership faced growing capacity constraints and wanted to ensure optimum utilization during an expansion of facilities. They also wanted to establish consistent processes and systems across the OR and inpatient care settings.
Our Approach
Huron implemented its Surgical Flow solution along with its ED and Inpatient Flow solutions. The Surgical Flow solution focused on improving access to the OR for both patients and surgeons, streamlining key processes and communication around patient preparation, and providing weekly operational performance reporting for all key departments.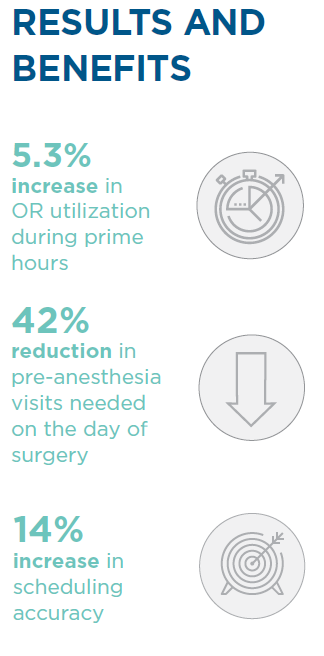 Enhanced surgical access and preparedness
Improved pre-admission testing and documentation led to the reduced variation on the day of care, empowering the team to take a proactive approach to preparing patients for surgery.
Reduced wait times
Restructured roles and responsibilities within the Pre-anesthesia Evaluation Testing Center to drive increased throughput and parallel processes during patient visits.
Provided data to enable informed business decisions
Huron helped staff and management use operational measures, reports and data in a more timely way to allow them to make informed and rapid business decisions.
Improved governance
A redesign of the governance structure helped refine oversight of the OR and positioned leadership to more effectively revise existing policies and procedures in a more effective manner.
Outcomes
Increased utilization
Improved schedule close and block release and refined block utilization measurement policies
Improved efficiency
16 percent reduction in Pre-anesthesia Evaluation Testing Center patient wait times
Increased phone pre-anesthesia evaluations from 0 to 15 percent of visit volume
Download Now