Huron's comprehensive benefits package supports your physical, emotional, financial health and well-being throughout your career.
Growth and Development Opportunities

We empower you to unlock your full potential through a robust and personalized suite of learning and development tools and career mobility opportunities.

Community

From supporting important causes and helping you create meaningful connections to providing opportunities for you to give back to the communities where you live and work, our corporate social responsibility commitment is embedded into everything we do.

Financial

We offer a competitive compensation package inclusive focused on your needs today and in the future.
Well-Being
The Huron wellness program focuses on all aspects of personal well-being, including health, work-life blend and family-focused benefits.
Work-Life Blend

Huron offers options and resources designed to help you balance the demands of the workplace with the needs of you and your family, including flexible paid time off, paid maternity and parental leave, and recharge leave.

Flexibility

From flexible paid time off to flexible work arrangements, we provide you a work environment that leads to increased job satisfaction and enables you to deliver lasting results to our clients.


Support the Whole Person

Our wellness program focuses on your intellectual, financial, social and emotional wellness to help you succeed personally and professionally.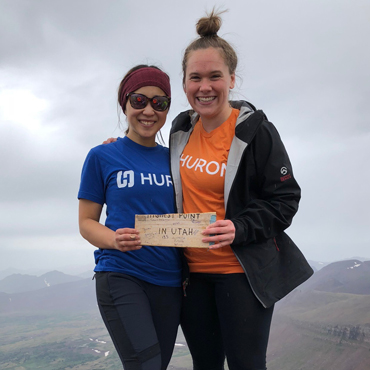 Meet Amy
Amy always seeks new challenges, whether it means furthering her education or hiking peaks more than 13,500 feet above sea level.
Read More
Huron is a place where I've met people who I consider more than co-workers, they are friends and family. We care about each other personally and professionally, and we make time to celebrate each other's accomplishments.

"
Amy always seeks new challenges, whether it means furthering her education or hiking peaks more than 13,500 feet above sea level. After spending the first part of her career in financial management positions at different research institutions, she yearned for a role where no two days would look the same. Consulting seemed like a natural fit.
Amy joined Huron's education team in 2015 to hone her expertise and help universities maximize the resources needed to support their research mission. She thrives on building new relationships, and she appreciates how — regardless of job title — all Huron employees roll up their sleeves to help do transformative work.
Huron's culture of collaboration and mentorship has afforded Amy the opportunity to focus on her own professional growth. "The coaches and mentors I've had at Huron have helped me learn more about myself and pushed me to grow in ways I never expected."
When she decided to further her education part time, her team ensured she had the support, time and resources to balance work and academics. Amy has since taken on new responsibilities at Huron that align with her newfound knowledge, becoming a product manager for one of the organization's financial analytics solutions.