Oracle
As an Oracle Platinum Partner with global delivery capabilities, Huron is a trusted provider of end-to-end Oracle ERP, EPM, and Business Analytics solutions. Whether it is cloud or on-premise, from blueprint through managed services, Huron is uniquely suited to help clients define their requirements, streamline business processes, and deliver the Oracle solutions needed to achieve measurable results.
We specialize in architecting solutions and delivering world-class results leveraging the following Oracle technologies:
Enterprise Resource Planning (ERP): Oracle Cloud and PeopleSoft ERP Financials, Human Capital Management and Student Systems (PeopleSoft Campus Solutions and Oracle Student Cloud)
Enterprise Performance Management (EPM): Oracle EPM Cloud (Oracle ARCS, Oracle FCCS, Oracle PBCS/EPBCS, Oracle PCMCS, Oracle EPRCS), Oracle EPM (Oracle HSF, Hyperion Planning, Oracle HFM, Oracle HTP, Oracle FCM/ARM, Oracle HPCM)
Data Integration: Oracle Data Integrator, Oracle FDMEE
Business Intelligence & Big Data Analytics: Oracle BICS, Oracle Essbase, OBIEE
Master Data Management: Oracle DRG, Oracle DRM
Oracle Financial Services Analytic Applications (OFSAA)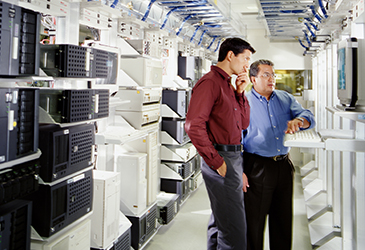 Resources
Learn how Huron helps financial services firms solve complex challenges with our financial crime and compliance management (FCCM) RPA accelerators, and more.

Read more to learn why cloud technology represents the future direction of corporate business intelligence.

Learn how Zimmer Biomet, with Huron, integrated Biomet's global financial systems into Zimmer's greater close, consolidation, and reporting environment.
Experts
John Bridges

Managing Director

Industry:

Financial Services | Manufacturing | Technology Media and Telecommunications

Mario Desiderio

Enterprise Solutions and Analytics Practice Leader, Managing Director

Industry:

Automotive | Energy and Utilities | Engineering and Construction | Financial Services | Manufacturing | Retail | Technology Media and Telecommunications

Jon Given

Managing Director

Industry:

Energy and Utilities | Financial Services | Manufacturing | Technology Media and Telecommunications

Ryan McDaniel

Managing Director

Industry:

Higher Education | Healthcare

Ted Simpson

Managing Director

Industry:

Higher Education

David Kolodziejski

Principal

Industry:

Higher Education
I'm interested in learning more about Huron's Expertise in Oracle