"Squeezing a balloon" is the analogy that comes to mind when I think of how the forces of "time" and "team" affect each other during a cloud implementation in higher education.
It goes like this: If you squeeze one end of a balloon, the air inside doesn't necessarily disappear, it just shifts to the other end. The same is true of a cloud transformation project. To ensure a quality implementation, if an institution is tight on resources (staff and cost), the timeline extends out; likewise, if the timeline is condensed, more resources are required to meet the accelerated deadline.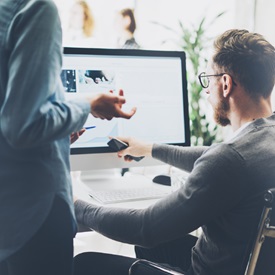 Moving a campus to the cloud is much like squeezing that balloon. Given that an implementation in higher education can be vastly different than one in corporate America, it's critical that leaders carefully consider these "time and team" factors to establish an appropriate timeline and resource plan before embarking on the path forward:
Technology
What does the current application landscape look like? Are there homegrown solutions? Multiple solutions for the same purpose? How do these applications connect? Does the institution have a modern ERP or is it running on a mainframe?
Organizational Readiness
Has your institution undertaken a large-scale implementation in the past?
Has the institution recently, or will it in the future, undergone change such as: large scale implementation, chart of account redesign, and reorganization of service?
Staffing
Are you considering condensing your timeline because you expect a large wave of attrition due to retirements, competition in the job market or budget cuts?
What skillsets must your team possess (or acquire) to implement and support the cloud model? (E.g., business analysts vs. mainframe technicians)
How will you retain key personnel who possess much-needed legacy backgrounds over the course of a long-term implementation?
No two institutions are alike; therefore, no two cloud implementations are alike. The shape of your "balloon" depends on the time in which you'd like to make the move and resources you have available to do it. But through critical assessment of both your current state and future goals, your organization will be better positioned for success.
To learn more about the timeline for implementing the cloud, view the cloud project roadmap.