The Coming Age for Digital Health: Implications for the Life Sciences Industry
Favorite
With increasing pressures to contain costs, expand access to care and improve patient experience, healthcare systems are adopting digital technology at an accelerated rate. This has been further accelerated by the COVID-19 pandemic.
The traditional model for healthcare delivery involves patients visiting a physical office or facility to meet face-to-face with their physician or provider. The last decade has seen these exchanges fail to live up to shifting consumer demands for increased access and convenience. Digital health has the potential to help healthcare providers realize a number of benefits, including:
Reduced inefficiencies
Improved access
Reduced costs
Increased quality
Enhanced personalization for patients
Health systems, payors and the pharmaceutical industry all want to control healthcare costs while simultaneously improving quality of care, but the current model is limited. At the same time, technology disrupters are fueling innovation and changing the game for providers by empowering patients to take control of their own healthcare.
Health systems, payors and the pharmaceutical industry all want to control healthcare costs while simultaneously improving quality of care, but the current model is limited.

"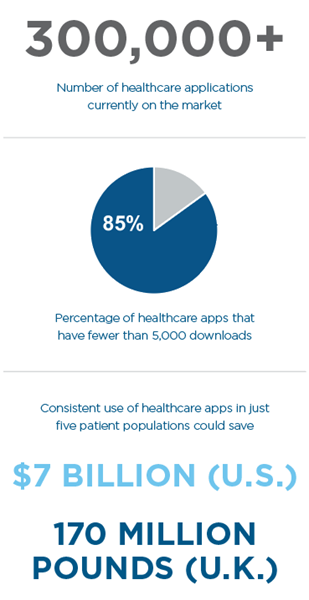 Today, there are more than 300,000 healthcare-focused applications (with upward of 200 added every day) and 340 wearable devices on the market. Yet wide-scale adoption is still nascent. The top 41 apps (across all categories) each have over 10 million installs, while 85% of healthcare apps have acquired no more than 5,000 downloads. Experts estimate that the consistent use of these apps across just five therapeutic areas (diabetes prevention, diabetes, asthma, cardiac rehabilitation and pulmonary rehabilitation) could save the United States $7 billion and the United Kingdom $227 million (170 million pounds) annually. Extrapolate that across all disease groups, and that number jumps to $46 billion in the U.S. or $2.67 billion (2 billion pounds) in the U.K.
Other trends that have led to the prevalence of digital health solutions include the following:
Healthcare system stakeholder needs are shifting. Providers and patients realize drug treatment is not enough. Patients also need personalized education, adherence and disease monitoring tools, lifestyle changes, financial and emotional support, etc. At the same time, patients are taking more ownership of their health by taking advantage of increased access to information and new tools (e.g., apps, devices). Payors and healthcare systems are struggling to control rising costs as resources remain strained, resulting in a greater focus on outcomes-based care. These trends are accelerating the need to innovate delivery to keep patients out of the hospital by managing their care at home.
Regulators and payors are enabling faster adoption of digital health. Key enablers include:

New regulatory structures.
The 21st Century Cures Act.
The Food and Drug Administration's (FDA's) software pre-certification process.
Three new Centers for Medicare & Medicaid Services (CMS) current procedural terminology (CPT) codes for remote patient monitoring.
Shifts toward outcomes-based pricing and pay for performance.
The United Kingdom's National Health Service inclusion of "digitally-enabled care" as one of the pillars of its long-term plan (2019).

Technology is being developed and adopted at an accelerated pace. Startups are entering the market and disrupting the status quo via agile new solutions that provide enhanced data tracking and user experience capabilities. To that end, there continues to be steady venture capital investment into digital health technology. In 2019, $7.4 billion was invested as funding followed a record-breaking year in 2018 at $8.2 billion.
Applications of Digital Health
There are many digital health applications along the value chain, with clinical trials, treatment delivery and patient management being three of the most critical to innovate and improve.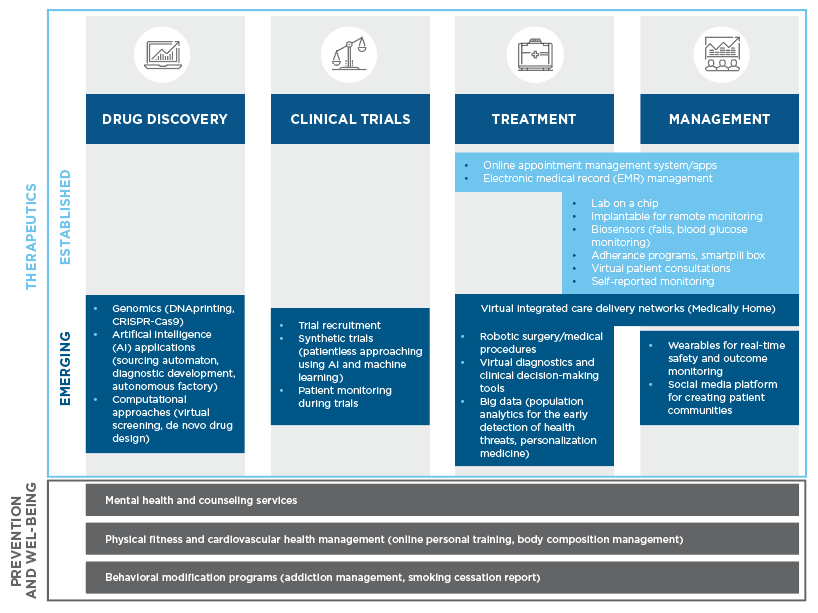 Clinical Trials
With the development of novel, innovative cell and gene therapies (CGTs), clinical trial design and execution has become increasingly complex. This poses a number of new challenges for the pharmaceutical industry, research and development teams, trial sites, and vendors. Digital technology can play a role in alleviating these concerns, but organizations must go beyond simply digitizing existing processes. They must also think critically to redesign and update the entire experience with the patient in mind and using digital technology as a driver.
The widespread use of digital technology in clinical trials can help to solve common challenges — patient recruitment, compliance and data management, and difficulty translating outcomes into the real world — while encouraging innovation and managing patient expectations.
Patient recruitment: Clinical trials often struggle to recruit patients, particularly for rare diseases. Digital technology can speed up and improve patient access to relevant trials. Mobile apps and telemedicine services can be used to remotely enroll patients and expand the geographical footprint of studies. This technology can also be used to identify more eligible patients for trial recruitment by leveraging data collected as part of routine care, in electronic health records (EHRs) or insurance claims.
Compliance and data management: Clinical trials rely on protocol compliance from many sites, partners, vendors, patients, providers, etc. This requires using different tracking systems to validate the data is collected and captured correctly. Using mobile apps, wearable devices and/or in-home sensor technology, providers can enable remote, continuous collection of data. In real time, they can confirm compliance, monitor patient adherence and mitigate adverse events, thus improving data quality and reporting. To further enhance efficiencies, clinical trials should consider using other emerging technologies such as artificial intelligence (AI) to collect and analyze data.
Trial setting not reflective of the real-world experience: For clinical trials to be effective, the trial should mimic patients' daily life and therapies should be representative of the individuals who will use them. Alignment between clinical trial findings and real-world outcomes will become increasingly important to assess the value of highly specialized, expensive therapies such as CGT. Using the right combination of digital health technology, pragmatic clinical trials can enable two-way, real-time communication between researchers and patients to ensure the evidence collected aligns with real-world experiences. This promotes continuity of care from clinical trial into a post-launch real-world setting. The digital technology utilized will need to be engaging and easy to use to ensure continued use even after the trial has concluded.
Treatment Delivery and Patient Management
A small percentage of patients with the most severe chronic conditions accrue a disproportionate share of healthcare expenditures (75% in North America). Sixty percent of U.S. adults have at least one chronic illness, and 40% have two or more. The treatment of these individuals accounts for $3.3 trillion in healthcare costs every year.
At the same time, the healthcare industry is moving to adopt outcomes-based payment models that reward providers for improved patient outcomes. New technologies are smoothing the path by making patient data collection and monitoring easier than it's ever been.
One example of a successful digital health intervention is Omada's digital behavioral counseling application, which can be used for the management of obesity and related chronic conditions. The app was shown to be effective in patients with pre-diabetes and those at risk for cardiovascular diseases, and a 2016 Centers for Disease Control and Prevention (CDC) study found that, on average, participants enrolled in the program lost more than 5% of their body weight.
There are three primary classifications of digital therapeutics that can improve clinical outcomes and reduce costs associated with traditional care delivery models — mobile apps, remote monitoring devices and telehealth.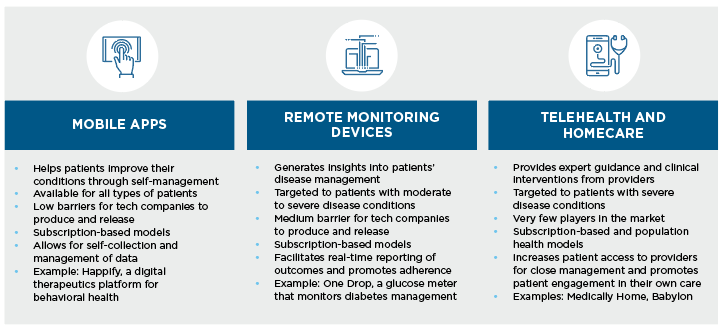 Digital Health Integration
What will it take for these stakeholders to accept digital technology as a solution to their current challenges?
Digital health adoption is occurring at an exponential rate, accelerated by the COVID-19 pandemic, but there is still more work to be done to achieve large-scale acceptance as a core, long-term solution rather than just a stopgap measure leveraged as part of health system responses to the pandemic.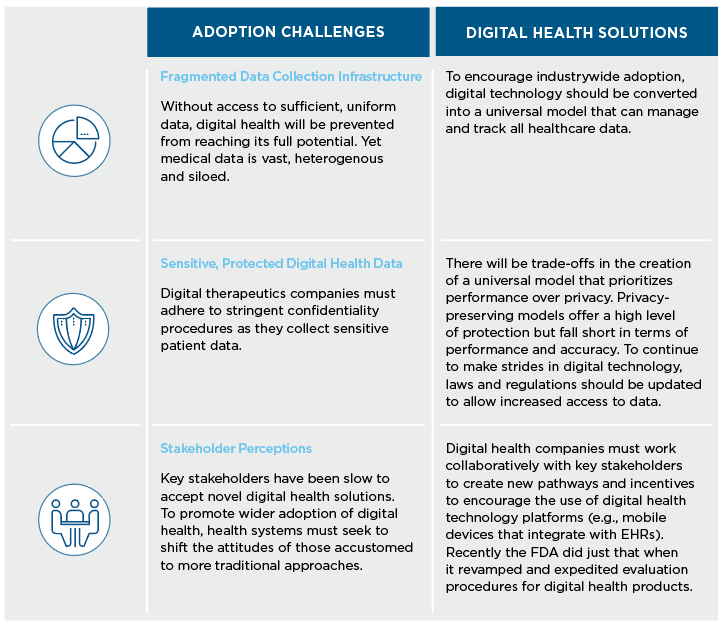 Digital health is here to stay as the growing enthusiasm of patients and providers continues to drive the acceptance of these technologies. These innovations are critical to reducing costs and better managing data across the care continuum while also improving patient access, compliance and outcomes. Innovative therapies like CGT hold the promise of life-changing treatments for critically ill patients, but that future is only possible if the industry is able to expand access and demonstrate the durability of clinical effects in the real world. Digital health can offer the transformative solutions necessary to manifest that reality.