A Student-Centric Approach to Higher Education's Affordability Crisis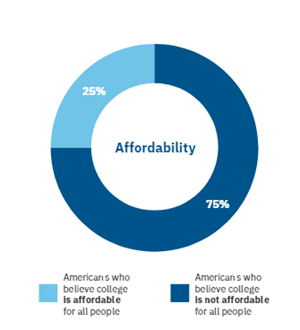 The COVID-19 pandemic has highlighted myriad industry challenges that have, for years, been buried under layers of financial constraints, legacy systems and traditional thinking. The pandemic itself has created a few new obstacles, but mostly it has accelerated the need to address those problems we have been aware of for years — affordability being one of the most critical.
Higher education has a unique opportunity today to innovate and evolve, to catalyze and prioritize those actions that will empower positive change. As institutional leaders grapple with the decision of when, whether and how to safely reopen their campuses, a critical mindset shift is required — from a focus on survival to future-forward innovation that fosters fundamental transformation.
Higher education is so critical to our society. Educating the masses beyond high school is a societal good that we all benefit from."— Melissa Kunes, Assistant Vice President for Undergraduate Education and Executive Director for Student Aid, Pennsylvania State University

We should not be content to simply wait out the storm or be tempted to fall into old patterns of thought and action. Our students demand better. With a combination of the right strategy, creative leaders and engaged teams, this difficult period may provide our industry with an opportunity to architect a future in which more people are able to improve their lives through higher education.
In this e-book, we, along with several of our esteemed colleagues from universities across the country, outline steps leaders should consider when seeking to improve access and affordability for all students by transforming financial aid and reimagining operations.
Higher education is at a significant inflection point where traditional thinking, established processes and existing services may fail to serve the students and institutions of the future. Those institutions that prepare now will be better positioned to serve new generations of students in the years to come.
As you read and reflect on the content in this e-book, we invite you to join us in a conversation about how to level the playing field for all students.
Sincerely,
Nicole Engelbert
Vice President of Higher Education Development, Oracle
Steven Hahn
Senior Director, Huron