Leadership takes a major step toward enhanced financial transparency with innovative benchmarking and forecasting initiatives.
Intercollegiate athletics has changed dramatically in recent years, not just because of the pandemic. The United States Supreme Court decision allowing education-related payments to student-athletes and the subsequent NCAA name, image, and likeness (NIL) policy, which permits compensation rights to student-athletes for their NIL, are industry game changers.
With many college athletic programs already struggling with multiple challenges, ongoing criticism of spending, and questions about economic sustainability, these developments have prompted athletic directors and campus leadership to rethink financial planning.
Transformation starts from within. That was the philosophy of the University of Pittsburgh athletic department, a sports powerhouse with 19 Division I programs and nearly 470 student-athletes who compete in the prestigious Atlantic Coast Conference, when it hired Huron to evaluate its long-term financial model within the context of broader industry trends and peer performance.
Due to inconsistent accounting and financial reporting across institutions, it is often difficult for athletic departments to compare their own spending and financial performance with those of peers. Now more than ever, in this era of increased turbulence in college athletics, this knowledge is critical to developing responsible financial plans.
Huron was invaluable in helping us validate and critically analyze our spending. They were particularly instrumental in allowing us to see how we compared with our competition. As the world of collegiate athletics evolves and our department continues to grow, this type of knowledge serves as a critical planning and forecasting tool."
— Heather Lyke, University of Pittsburgh Director of Athletics
A New Blueprint
"Pitt is committed to continuing to invest in its athletics programs and student-athletes," said Tim Walsh, managing director at Huron. "The leaders in Pitt Athletics understood that to achieve more competitive success, they needed an accurate understanding of peer spending to clarify their position in the market and encourage continued growth."
Working side by side with Huron to establish its objectives and plot a course for discovery, Pitt embarked on a three-month engagement defined by two initiatives:
Budgetary benchmarking and normalization: Huron developed an objective set of budgetary benchmarking data for Pitt Athletics through normalization efforts in coordination with a select group of peer institutions within and beyond the Atlantic Coast Conference.
Financial model assessment: Huron collaborated with financial leadership in athletics and at the university level to generate a comprehensive and objective set of forward-looking financial projections for the department and a customized modeling tool for enhanced financial forecasting.
The budget normalization initiative included developing benchmarking data from five peer institutions spanning all major revenue categories (scale and source), operational efficiency, university support, and more. After interviews with personnel from each university, athletics-specific financial data were adjusted to standardize accounting practices across peers, enabling more accurate and meaningful observations and highlighting relative financial performance.
According to Walsh, "The peer institutions were eager to be involved in this insightful project. That speaks not only to the respect Pitt carries within intercollegiate athletics but also to the need for truly actionable information rather than raw data."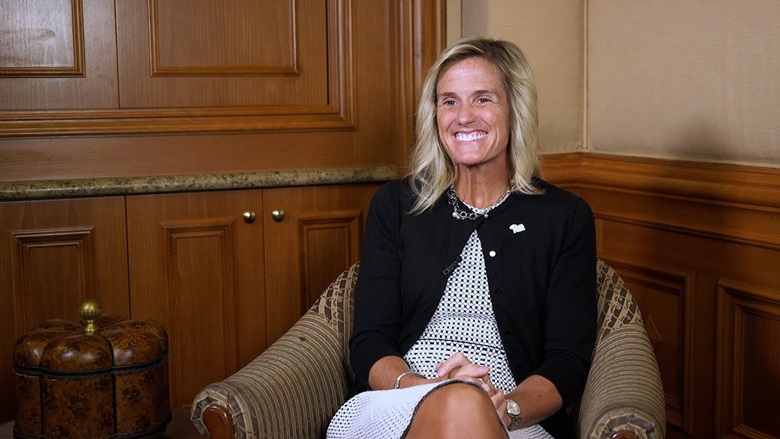 Heather Lyke discusses the importance of peer athletic departments working together to develop big-picture solutions.
The financial modeling initiative synthesized Pitt's financial data to produce forward-looking financial projections for the athletic department. Huron, in collaboration with Senior Associate Athletic Director Ryan Varley, forecast multiple scenarios based on possible future outcomes and provided a new, data-informed template for making critical funding and investment decisions.
As Pitt seeks to sustain and enhance its leadership position in a rapidly evolving industry landscape, its new financial modeling tool and the related normalized benchmarking data will enable the university to forge a roaring future for the Panthers.