Driving Employee Engagement With Your Cloud ERP
Favorite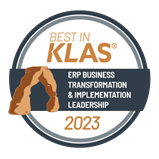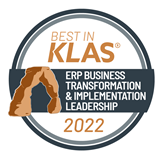 Modern enterprise resource planning (ERP) software is critical for managing business processes across your healthcare organization. When implemented and used correctly, it can become a tool to create a more engaged workforce and differentiate your organization in the market.
Why Engagement Matters
Employee engagement, the commitment an employee has to your organization, may seem like a nice-to-have. Although high engagement can be difficult to achieve, it's imperative to have given its impacts your bottom line.
30% of Americans are engaged at work
51% of currently employed adults in the U.S. say they are searching for new jobs
$319 to $398 billion annual economic impact of non-engaged or disengaged managers in the U.S.
High employee engagement = Lower employee turnover, accidents
Employee engagement is strongly associated with a patient-centered work environment and a patient safety culture
High employee engagement = Increased customer satisfaction, productivity, profit
Use Your Cloud ERP to Create an Employee-Centric Healthcare Organization
A modern ERP improves workflows across the organization. While this is often looked at as a means of increasing productivity or streamlining processes, ERPs can be drivers in creating an employee-centric organization. By focusing on employees' core needs, you'll give them the ability to do their jobs in a more effective manner increasing satisfaction.
Key Takeaways
To leverage your modern ERP as a tool to increase engagement, begin to:
Think Differently
Look at processes and procedures from your employees' perspective and understand the pain points they experience.
Plan Differently
Put a plan in place to address areas where you want to increase engagement.
Act Differently
Continuously seek employee feedback and look for ways to enhance the employee experience especially as new technology or processes are developed.