More Than Words: Getting Transformation Communication Right
Favorite
A successful change management effort needs a smart communication strategy
Communication is a critical component of change management in any enterprise transformation. Large projects such as a shared services or cloud enterprise resource planning (ERP) implementations that include technical, organizational and cultural change and impact the entire campus require a nuanced approach to both messaging and delivery. Impactful projects often have dedicated individuals or even teams assigned to developing and delivering messages. While recognized as an underlying success factor, communications often don't achieve the desired results. Stakeholders still feel anxious or uninformed, project leaders feel on the spot, and project managers and change agents feel they haven't been heard. So, where's the breakdown?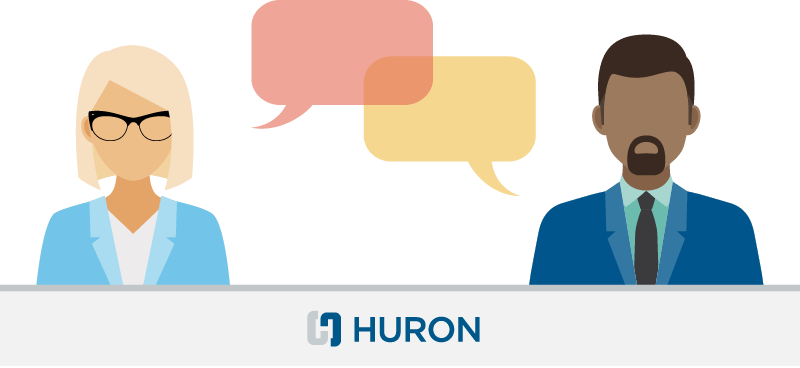 Throughout our many service delivery and cloud ERP design and implementation projects, we've noticed a few recurring gaps. Luckily, addressing these challenges doesn't mean having to work harder — in some cases, it may even mean communicating less. Instead, it requires reorienting the point of view underlying communications.
Communicate as much as you can as early as possible but make sure you are giving the right level of detail.

"
In an interview with Huron, Megan Hanneman, comptroller at the University of Wyoming, discussed the importance of communication during a cloud implementation. "Communicate as much as you can as early as possible but make sure you are giving the right level of detail," she said. "Make sure that you are giving people as accurate of information as you can and don't give them details too soon if you think some of those might change."
Keep these six common pitfalls of communication in mind during your project:
Talking in the abstract: Service delivery projects involve change, and the specifics of that change are often developed through a long, iterative process. Early stage communication efforts, therefore, require the use of generalities. Communicating in vague terms like "reorganize" or "alignment" says there's still a lot to be determined and leaves a lot to the imagination (Layoffs? Change in reporting relationships?). How to adjust? The best approach is to clearly communicate what you do and don't know and when you expect to know what you currently don't. An illustrative example, even if preliminary, can often make a complicated idea much more tangible.
Developing too much content: The complexity of large scale projects means a proliferation of details and caveats. The bandwidth of most stakeholders is very limited, especially in the early stages of a project. How to adjust? Select a few critical ideas to convey broadly and provide easy access for those who need more details.
Overproduction: A large project often takes on its own identity. The concept of internal branding often fosters excitement within the project team, but the slick result can backfire. Videos, logos, glossy posters and branded materials can convey contradictory messages to internal stakeholders who perceive them as unnecessary costs or as a way to disguise the real impact of a project. How to adjust? Clean, professional, organized communications can have as much success as highly-produced ones. Focus on clarity and professional presentation, not on unnecessary overproduction.
Ignoring one-on-one communications: Communications often need to reach many people in order to increase awareness and knowledge. Critical stakeholders, particularly those who may challenge a project, often need to be engaged directly. Personalized messaging and the opportunity for dialogue can be very powerful tools in building support but are rarely recognized as top priorities. How to adjust? Develop a plan to engage individuals who are critical to the project's success. Craft consistent but personalized opportunities to communicate with them and enlist project sponsors to be directly involved in this part of the plan.
Overreliance on messaging: Communication has limited value when it isn't supported by demonstrated behavior and reinforced by incentives. In organizations with distributed power, it's just not possible to message your way to an organizational transformation. How to adjust? Reinforce important messages with material demonstrations and make sure project sponsors show their commitment through an allocation of time, energy, and resources. Remember, the benefits of the project (efficiency, effectiveness, service enhancement) must be real and perceivable.
One-way communication: Many communication plans include efforts to gather input from stakeholders but lack a well-defined mechanism to act on. How to adjust? Make sure you provide multiple channels to receive feedback along with a structured way to respond to it.
All of these pitfalls have one underlying gap: They don't fully account for the point of view of the stakeholder. The barrier to success for many projects, especially those involving significant change, is high. Skepticism, fatigue, and anxiety tend to create thick filters for communications. Simple, jargon-free communication backed up by demonstrated commitment can have tremendous impact. Critical elements of effective change management include timing, transparency, inclusion, and perception. Communication efforts are a highly-visible component of change management and should be designed to ensure that all stakeholders receive the right message at the right time and that they fully understand the transformation, rationale, and potential impact.
Subscribe
Receive the latest insights and news from Huron's transformation experts.