When Huron partnered with the Higher Education User Group (HEUG) to conduct a webinar series on cloud readiness, we asked our audience whether their business processes were documented. It wasn't an idle question. The majority of respondents admitted that fewer than half of the business processes across all their departments have defined process owners or follow a consistent approach.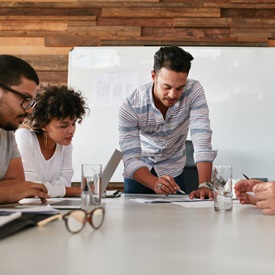 For a college or university preparing for business transformation as part of a cloud implementation, this constitutes a substantial challenge for the project team. That's because imagining the future state using delivered functionality is substantially more difficult if business needs are not documented or are inconsistent. The magnitude of change impact and, therefore, change management also increases exponentially.
Defining Business Processes
I've learned that it is important to collectively define what the term business process means for your institution.
A business process is a series of activities that have a specific beginning or trigger and lead to a specific end or outcome. Some useful guidelines for defining a business process include:
A process is a collection of interrelated tasks, system transactions and decisions that function in a logical sequence to achieve an ultimate goal or outcome.
In order to launch, a business process requires a trigger, such as a request or an event.
To qualify as a business process there should be a clear relationship between trigger and outcome.
A business process should be described by a verb and a singular noun. Examples include: generate a statement, process an invoice, post a charge to the general ledger, hire an employee and similar descriptions.
A business process is not the act of managing a person or a series of processes, nor is it the same as supplying a service or an ongoing activity, such as answering a phone call or meeting with staff.
Most often, a business process focuses on meeting the needs of an institution or delivering a service that fulfills a need.
Beyond the Definition
Meeting institutional needs requires a methodical and collaborative approach to process mapping. In the context of a cloud implementation, business process mapping refers to the activities involved in mapping delivered system capabilities to accomplish the core business needs of the institution. Developing a plan that accounts for the following steps is central to success:
Build an inventory of all current business processes. While a detailed current state analysis is not necessary, the first step to business transformation is to understand all business processes that occur on campus. Make sure you capture additional information on these processes, such as identifying the core business need driving the process, the systems in use, paper and e-forms involved, workflows and approvals required, process consistency across the institution and similar details.
Understand out-of-the-box functionality. It's important to "unbox" the Cloud application and learn how basic transactions are completed in the system. It's also important to understand how to enter a requisition or enter an employee transfer in the system before you imagine how your institution's business process will look.
Identify any manual steps that must be completed outside the system. Mapping an end-to-end business process for your institution requires identifying the various manual steps and handoffs that contribute to the entire process, from trigger to outcome.
Define business process participants. It's critical to identify those responsible for completing the steps of a business process map. This helps business leaders envision the future state organization and the roles and responsibilities of the individuals they want to participate in the process, as well as expediting system security design.
Define performance indices, policies and standards. In addition to facilitating rapid transaction processing, data consolidation and reporting, cloud technology offers institutions the opportunity to benefit from continuous improvements through regular software enhancements. In this context, it's essential to define standards of performance and identify key indicators that capture the benefits anticipated by the institution.
Question Everything
Read More on How to Prepare for the Cloud:
The most salient feature of process mapping during any cloud implementation is that it challenges you to question every aspect of how you do things today, and to simplify and streamline your processes using proven best practices enabled by cloud technology. These questions can lead to opportunities to implement improvements to processes which, despite being comfortable and familiar to the users, may have posed serious limitations in the current environment.
Better still, the aptitude for continuous improvement does not end with the system go-live, but carries on perpetually as system applications continue to be upgraded with new features and ongoing enhancements.
Explore the critical steps for business process mapping and transformation during a cloud implementation.
About Vivek Cherian
Vivek Cherian is a director in Huron's higher education Oracle Cloud practice. Cherian has over 10 years of consulting experience assisting both public and private research universities with implementing Oracle enterprise solutions. He currently serves as the Huron Project Director on Vanderbilt University's Oracle Cloud implementation.