The University of Miami (UM) is a private research university comprising 11 schools and colleges that serve more than 17,000 students. As part of an effort to improve student service and increase efficiencies, UM leaders, in collaboration with Huron experts, leveraged Salesforce technology to create a comprehensive platform to align UM's processes and product mix to best support their students and staff. This platform was utilized to create an online self-service portal and empower staff to personalize student service in an all new, state-of-the-art facility.
Streamlining Processes
While the current pandemic created new challenges for higher education, it also made clear the need for comprehensive student services that make navigating the business of education easier.
For years, college and university leaders have been aware of an issue common across institutions in which students must access several different offices to resolve a single task.
UM leadership began to seek solutions and determined that building a comprehensive student service model (to include student accounts, financial aid and the registrar) was the right next step for the university. Thus the idea of 'Canes Central was born.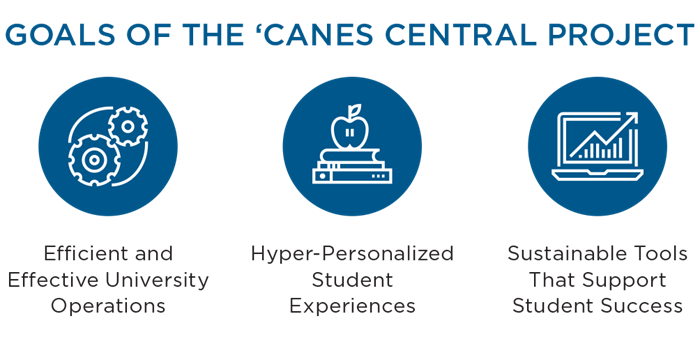 A Blended Team Approach Enables Success
Several factors enabled the university to achieve the project's goals, including a blended team approach that integrated cross-functional stakeholders from across the university with Huron experts to provide comprehensive project oversight. The university chose to collaborate with Huron because of the firm's deep expertise in higher education and a strong reputation for developing innovative, sustainable solutions that can be effectively implemented in large, complex universities. With the right combination of institutional knowledge, technological savviness, industry expertise and passion, the collaborative project team strategically executed a long-term plan to enhance the university's vision for student success.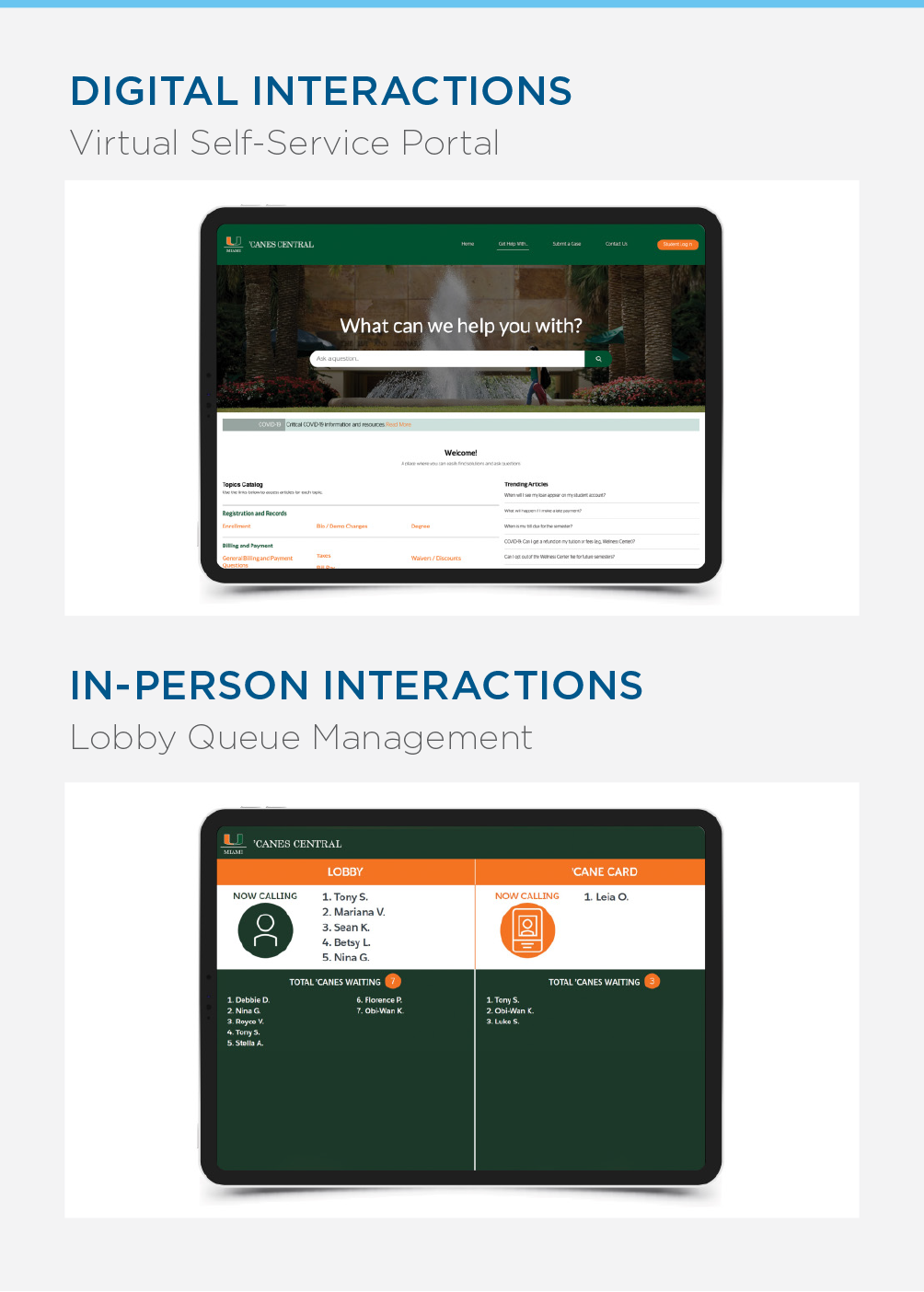 'Canes Central's Personalized Interactions Give Students Options
One of the primary objectives of the project was to create unique, personalized experiences that would give students an expanded range of options for obtaining support. Thus, the 'Canes Central model included both a virtual self-service portal for students who prefer digital interactions and an innovative facility powered by data and technology for those who require in-person assistance.
Regardless of the method students choose to engage, this new model for student service is streamlined, integrated, collaborative and personalized, and allows students to get the help they need without requiring multiple distinct interactions. One of the clear benefits of this platform is that it gives staff a more holistic view of student engagement and performance, which enables them to support each student's success comprehensively.
A Strong Foundation Enables Institutional Agility in Emergency Response
With a planned two-phase launch (the first focused on the digital self-service platform, the second on the in-person facility), the team intended to gradually acclimate students and staff to the new 'Canes Central over the course of several months. The original goal was to unveil the digital self-service platform in early May 2020 and the on-campus facility in July 2020.
However, with higher education's shift to a largely virtual delivery model in response to the COVID-19 pandemic, project leadership made the difficult decision to fast-track the virtual launch to begin serving students at the beginning of April 2020 rather than May.
This accelerated go-live focused on providing students with critical services (financial aid, registration, records, billing and payment) as they quickly transitioned to a virtual environment. Because UM had already built a strong foundation for virtual student support, the institution was able to be agile in response.
New Student Service Model Energizes Institutional Innovation
By all accounts, the institution's staff, faculty and leaders have been energized by the 'Canes Central project, and many are hoping to replicate that success in forthcoming initiatives that build on this innovative model.
The key to these efforts will be in proving the value of the 'Canes Central model. To that end, the university is tracking indicators to ensure that engagement and satisfaction remain strong.
Project leaders say they have been pleased with Salesforce's built-in reporting capabilities, and they are already iterating on the out-ofthe-box features; Huron recently helped the team to build a case timer to keep track of how long it takes to resolve student issues.
In the first nine weeks of operation, the virtual 'Canes Central platform has helped staff handle more than 13,000 student interactions. Survey results have overwhelmingly shown a high level of satisfaction with the new program:
Customer satisfaction: 94.12%
Net promoter score: 9.29 (out of 10)
As the in-person facility opens and more students engage with 'Canes Central, project leaders believe the data will continue to paint the picture of an institution dedicated to providing exceptional student support.