Establishing "a student-centered approach" is more than a catchphrase, it's a strategic imperative in higher education today.
Institutions wishing to do more than just survive in an increasingly competitive marketplace must rethink the entire collegiate experience from the student perspective. Students expect a return on their investment and hold colleges accountable for delivering it.
Huron, in partnership with the Higher Education User Group (HEUG), led a four-part webinar series to share strategies for implementing Oracle Student Cloud. HEUG is an Oracle user group for higher education technology professionals that facilitates the sharing of ideas, information and experiences among its members. As HEUG member institutions deploy cloud solutions in enterprise resource planning, enterprise performance management and human capital management, they simultaneously start to plan the implementation of a cloud solution to support and enhance the student experience. Universities need to give students the best experience possible with the right technology in place.
The Advancing the Student Experience with Cloud Technology webinar outlines how to conduct a student cloud readiness assessment and considerations when beginning a technology transition:
Is your university ready for student cloud?
Is the vendor ready for student cloud?
What type of timeline should we adopt for moving to student cloud?
What questions should we ask key stakeholders during on-campus interviews?
What business processes might need to be examined to prepare for the student cloud?
Assessing Your Institution's Cloud Readiness: Is the Campus Ready to Move to The Cloud?
It's not a question of "if" your university should move to the cloud, but "when." Assessing an institution's cloud readiness involves five steps: identify, collect, analyze, validate and deliver.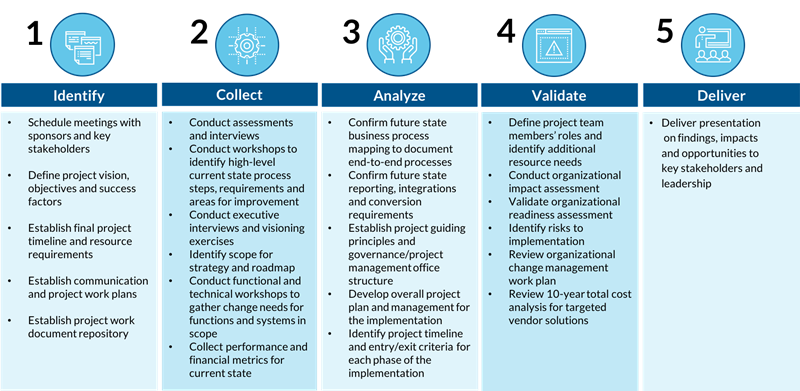 Oracle Student Cloud is a hybrid of local cloud products: Student Engagement for Higher Education, Student Management, Student Success and Student Financial Planning (formerly Vocado).
During the assessment, gather information on the strengths, weaknesses and pain points of your organization to see how the business process currently in place maps to the best practice processes the cloud product brings to the table. Simultaneously, gather data to quantify the cost of the student cloud implementation. The qualitative and quantitative data collected through the assessment is then aggregated into a thorough and detailed final assessment report that will help determine whether or not a campus is ready to move to the cloud, if the cloud is ready for the campus and when the right time to implement may be.
Assessment Case Study: Duke-Kunshan University
Duke-Kunshan University (DKU) in China is a joint-venture institution that blends liberal education with Chinese tradition in a new approach to elite higher education. DKU needed a new system for their 2018 incoming class and wanted to explore a cloud system to leverage the student interface. Huron worked with DKU to assess the institution's readiness implementation options.
In many ways, the assessment and implementation process for Oracle Student Cloud takes a similar approach as other Oracle cloud products. A key difference is that the student cloud project is functionally led so there is a shift in decision-making roles. The assessment is approached with an eye toward adoption of best practices as opposed to customization. It can also be a more rapid implementation process based on the institution's past cloud experience and testing the proof of concept. Another difference with Oracle Student Cloud is that the technical effort interfaces with many different third-party products.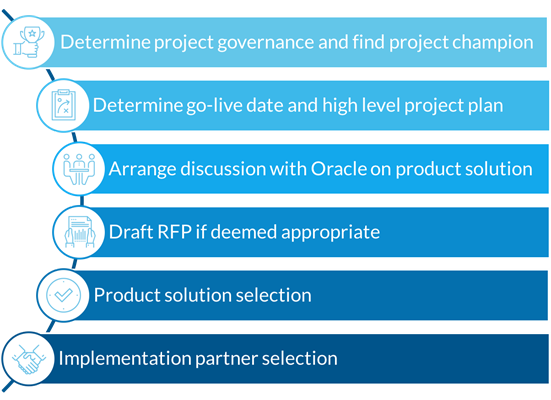 During the assessment phase with DKU, the focus was to discuss the actual requirements of the university. The goals were to identify and document the academic and administrative needs of the university and its critical systems requirements, and to give some preliminary strategic recommendations around systems selection and staffing. Once a decision structure was established, the core planning strategy was to create working groups around particular topics throughout implementation. Working groups started by building a business inventory to flush out key problem areas that require a more in-depth discussion on how to use or adopt the system to meet requirements that are atypical. The business inventory can be based on an existing list of functionalities that are tested on a regular basis or to leverage artifacts from the implementation partner. It is key to begin thinking through the requirements and the various interfaces you have and want in the future when entering these discussions. Think first about your outputs before working on your inputs and remember that customization should not be your first go-to solution.
Huron 2019 Graduate Survey Report
Read Huron's recent graduate survey report for insight into what the evolving student preferences mean for the campus experience.
Read More

What Type of Timeline Should We Adopt for Moving to Student Cloud?
It is important to put together timelines to understand what is feasible and assess the drawbacks and benefits of one timeline versus another. Additionally, it is important to determine what solutions are available during different timelines. Institutions also need to consider if the new cloud system and staff that would normally aid in supporting the implementation are being utilized elsewhere. After assessing the requirements and the timing options, DKU was able to decide to move forward with Campus Solutions hosted by Oracle.
Is the Vendor Ready for Student Cloud?
Oracle CX Cloud has a recruiting cloud platform with four segments- social listening, modern marketing, strategic recruitment, and sustainable integration. DKU was one of the first to stand up all four of these products in the recruiting suite. There are currently more opportunities to implement hybrid cloud products against a campus solution instance such as Continuing Education and Student Financials.
What's Next?
Once the assessment has been completed, a timeline decided upon, and a solution in focus, DKU finalized talks with Oracle on their systems selection and choose an implementation partner. The information gathered during the prior phases is then used to create a roadmap and a more detailed project plan.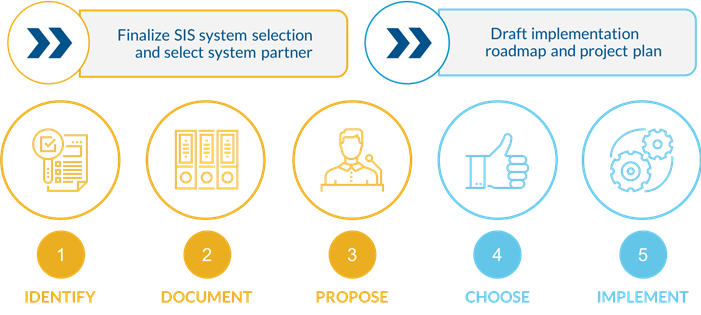 Lessons Learned
Institute a governance structure that allows for quick decision-making
Enlist a core team of champions focused on establishing a vision and dedicated to executing on the vision
Lead broad-based discussions with an eye toward quickly targeting topics that need creative brainstorming
Carefully examine the timeline and compare to capacity and staffing to ensure a successful rollout and implementation as some products might be implemented at different times on different campuses
Begin evaluating vendors midway through the assessment. Simultaneously assess the product maturity to determine if the product you are most likely to use is ready for you. A more focused business process evaluation should take place.
Prior to implementation, ensure that an evolution in business process are aligned with your chosen objectives for moving to the cloud.