In Huron's webinar with HEUG, Vanderbilt University shared its lessons learned and techniques that institutional leaders can leverage to execute a smooth Oracle cloud implementation.
Huron, in partnership with the Higher Education User Group (HEUG), led a four-part webinar series to share best practices and methodologies universities should consider when moving to the cloud. HEUG is an Oracle user group for higher education technology professions that facilitates the sharing of ideas, information and experiences among its members.
Part two of the webinar series highlights how Vanderbilt University executed a smooth Oracle cloud implementation and the lessons learned along the way.
Vanderbilt University's Cloud Techniques and Lessons Learned
At Vanderbilt University, Joshua Vincent, senior director in the Process & System Optimization Office, worked with Vivek Cherian, director at Huron, to execute the institution's cloud implementation. Because cloud implementations are different from on-premise implementations, they come with a unique set of challenges. Effective change management and business process transformation are crucial to implementation success.
Vincent and Cherian joined Huron for a webinar, Best Practices for Executing a Successful Cloud Implementation, where they shared lessons learned and techniques that institutional leaders can leverage to execute a smooth implementation. Read the three lessons Vanderbilt learned as they transitioned to Oracle Cloud.
Lesson One: Adopt a Solution-Driven Approach
Institutions should establish a mindset of future-focused process design and openness to role and responsibility changes. Oracle Cloud projects, for example, are solution-driven rather than requirements-driven. A solution-driven approach is when organizations begin with what the cloud offers and then work to customize it based on specific needs.
Vanderbilt adopted a solution-driven approach. "We wanted to avoid the scope creep probability of the requirements-driven approach," Vincent said. They also wanted to avoid potential barriers to processing transactions that they faced in the past because they adopted too many requirements.
To earn stakeholder support, Vanderbilt hosted town halls where the vice chancellor explained the approach and why internal user input was not solicited. "This approach has been valuable for us, and it's expanded beyond just this implementation," Vincent said.
Lesson Two: Leverage Cross-Functional Design
Workgroups
Workgroups are teams established to consider upstream/downstream impacts and to define future state business needs related to complex cross-modular functions. Vanderbilt formed workgroups, having as many as six to 10 workgroups at any given time, which was crucial to its success.
Developing workgroups with a specific mandate and timeline helped us focus our efforts and move forward." —Joshua Vincent, Vanderbilt University
Vincent and his team gave each workgroup mandates with deadlines to keep them on track and the project moving. The workgroups consisted of representatives from central finance areas, HR and project management, as well as affected stakeholders.
"Developing workgroups with a specific mandate and timeline helped us focus our efforts and move forward," Vincent said.
Workgroups should be formed early in the process and be inclusive rather than exclusive. "It's important to keep communication channels open and form workgroups as needed, where people can sit down and talk through those cross-functional needs," Cherian said.
Here is how Vanderbilt managed its workgroup process: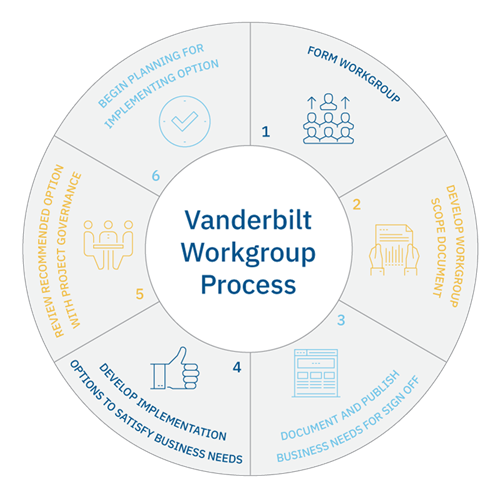 Lesson Three: Test More Than the Technology
Institutions should approach all aspects of configuration and testing with a business process angle. That means testing everything — more than just the technology. The testing strategy at Vanderbilt consisted of two key components: Conference Room Pilots (CRPs) and system integration testing.
Conference Room Pilots
Vanderbilt hosted three rounds of CRPs. The first was based on the preliminary values gathered during the workgroups. Testing the business processes in the first round of CRPs revealed ways Vanderbilt could understand how to further enhance configuration, which they then tested with more complex scenarios in the second round of CRPs. The process repeated for the third and final round, with improved data and takeaways.
"Each project or each institution will have to decide how many rounds of CRPs it needs to feel comfortable with these foundational business processes," Cherian said. "Huron recommends at least two rounds of CRPs."
System Integration Testing
Since successful cloud implementations are evolutionary and integrative, a comprehensive testing strategy is essential. For Vanderbilt's cloud implementation, the team tested end-to-end flows using multiple business processes with the latest configurations and converted data.
They used the business processes to guide how many scenarios they would test. For each business process, the functional team members would develop scenarios relevant to their role. The list of scenarios grew, and Vanderbilt used a dedicated project management software to document detailed scripts to recreate the steps needed to perform the tasks in each scenario.
Vanderbilt learned the keys to a successful implementation required a solution-driven approach, cross-functional design and a testing process that went beyond just technology requirements.