Request Demo
Login
Enable higher-quality care at lower costs by collecting and acting on stakeholder feedback quickly using the Huron Rounding tool.
Rounding Empowered by Better Technology
Huron Rounding provides a one-stop tool to help engage staff, increase efficiency, improve clinical outcomes and facilitate data-driven decisions.
How We Can Help

Keep Patients and Caregivers Connected

Keep Patients and Caregivers Connected

Organizations must be able to interact with patients in a consumer-centric, convenient way that engages both patients and caregivers. Huron Rounding provides a tool for caregivers to engage more deeply with patients across the care continuum and measure relevant health data for targeted patient populations. These data-driven insights help improve clinical outcomes and keep people healthy.

Engage Staff

Engage Staff

Use technology to drive adoption of new processes, validate desired behaviors, and provide a standard platform to capture opportunities for reward and recognition of staff. Our experts work with your team to build employee engagement by aligning employee goals to organizational objectives, all of which are reinforced by rounding. Insights gained from rounding can be included in employee conversations, facilitating more effective feedback during coaching sessions.

Increase Efficiency

Increase Efficiency

From office visits to hospital stays, organizations need an efficient, seamless way to monitor patients. Huron Rounding provides a tool to execute point-of-care issue management, accelerating service recovery and accountability.

Improve Quality and Cost With Data

Improve Quality and Cost With Data

Improve outcomes and personalize care through analytics that predict which satisfaction and engagement attributes matter most to each patient. Huron helps your team track process improvement and hospital-acquired infections prevention initiatives.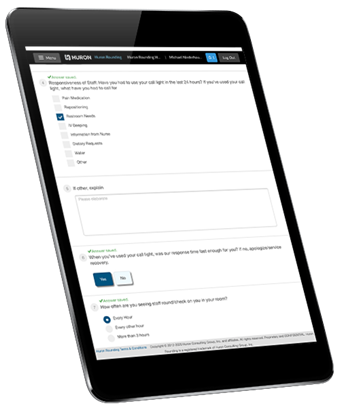 Want to Learn More?
Request a demonstration of Huron's Rounding tool to see firsthand how these rounding and measurement tools can help you prepare for the future of healthcare.