As the COVID-19 pandemic continues, we understand that healthcare organizations are fighting a battle on multiple fronts. From the clinicians on the front lines of patient care to the leaders striving to stabilize and guide their organizations forward, the work to be done challenges us all in new ways.
Huron truly appreciates the leadership that you and your organization have shown during this unprecedented time.
Huron has assembled educational resources to help you address the most pressing challenges at all stages of this crisis — response, recovery and repositioning. We encourage you to connect with us if you need immediate assistance.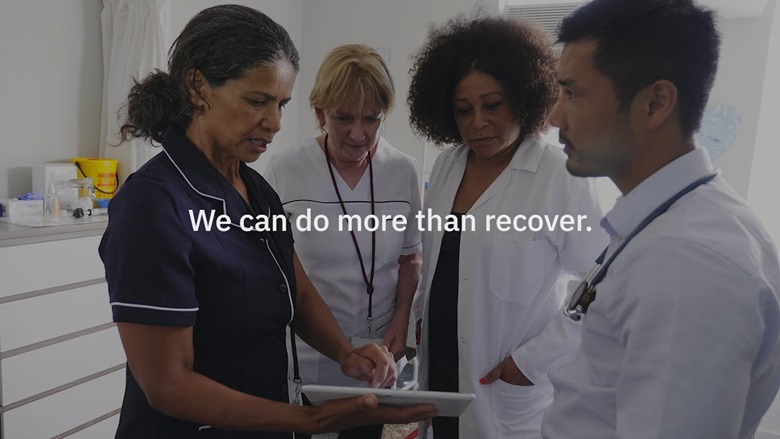 More than Recovery
Amid the challenges of COVID-19, healthcare leaders are poised to make meaningful changes that will transform their organizations for the future of healthcare.

Reposition and Redesign Resources
Rethink and redesign your organization to compete in a changed healthcare landscape.
Strategy and Business Operations
Webinar Recording | COVID-19 Vaccination Planning and Readiness
With the progression of the COVID-19 vaccine, organizations must begin preparing a vaccine management strategy to flatten and suppress their COVID-19 curve. Huron's subject matter experts discuss how organizations can learn more about vaccination planning and readiness.
On the Front Lines: Elevating Test, Trace and Treatment Strategies
Learn how organizations can elevate testing, contact tracing, treatment and vaccine deployment strategies to protect their communities and prepare for the future.
Beyond Recovery: How Healthcare Can Transform After Crisis
How healthcare leaders can use the momentum of the crisis to establish near-term stability while accelerating transformational initiatives for long-term sustainability.
Healthcare in the Home
Webinar Recording | Recovery is Not Enough: Making Critical Transformation Part of Healthcare's Post-Crisis Plan
Huron's healthcare experts discuss how to stabilize after COVID-19 while using the momentum of the crisis to drive transformation.
The Rising Value of Acute Care in the Home
Deliver higher quality care and better consumer experiences by investing in acute care in the home.
Home Care: COVID-19 Pandemic Reveals Gaps in Healthcare Model
Reimagine today's healthcare delivery system to create a value-based, consumer-centric future.
Communications and Leadership
Leadership: Four Timeless Leadership Principles to Connect With People in Crisis
Lean on these leadership skills to help you guide others through the COVID-19 pandemic.
Leadership: Managing Physician Burnout Today and Tomorrow
Standardize, automate and track rounding activity in your healthcare organization
Workforce
Workforce: Building a Strategic Workforce for Crisis Recovery
Recommendations for how healthcare organizations can align their workforce strategy to demand changes and new organizational priorities coming out of crisis.
Building Organizational Resilience
Healthcare workers are experiencing higher levels of stress. Leaders can empower a change-ready workforce by taking a holistic approach to organizational resilience.

Recovery Resources
Stabilize your finances and operations and build new strategies based on lessons learned from the crisis.
Telehealth and Virtual Care
Telehealth: Essential Steps for Healthcare Organizations
Key steps to quickly establish or expand telehealth and virtual care capabilities.
Technology
Technology: Accelerating Interoperability
Suggested actions to help organizations stay focused on looming CMS interoperability deadlines as COVID-19 continues to strain resources.
Cybersecurity: Immediate Actions to Protect Healthcare Organizations
Immediate actions to help healthcare organizations defend against the uptick in cyberattacks, including ransomware and phishing scams targeting healthcare workers.
Workforce
Employees: How to Work From Home Effectively
Five tips on how to effectively work from home during the COVID-19 pandemic.
Leaders: Managing Virtual Teams Effectively
Five tips leaders can apply now to manage remote employees during the COVID-19 pandemic.
Organizations: Creating Virtual Contact Centers
Steps to quickly shift call center agents to virtual work environments, stemming the spread and risk from COVID-19 while increasing safety, access to care, and overall consumer and employee satisfaction.
Financial and Business Distribution
Financial: COVID-19: Prudent Financial Management for Healthcare Organizations
Key guidelines to review and act on to help healthcare organizations prepare for and endure the economic stresses brought on by the COVID-19 pandemic.
Mitigate Business Impact: Innosight, Strategy and Innovation at Huron
Eight steps to build the agility to get through the tough near-term conditions, while keeping an eye on the horizon to build perspective on what will matter as the crisis ebbs.
Financial: Revenue Cycle Strategies to Accelerate Cash Flow
Consider these revenue cycle strategies to help provide financial relief as organizations navigate shortfalls in cash due to COVID-19.
Liquidity in Crisis: Why Thinking Like a Startup Can Help Businesses Recover
These attitudes and business practices of startups can help businesses of all sizes recover from the pandemic.
Financial: Provider Compensation Considerations and Financial Viability
Consider these temporary actions for increasing necessary cash flow today to ensure future financial viability.
Ambulatory Care and Operations
Ambulatory Operations: How Organizations Can Begin to Stabilize and Recover Following a Crisis
Consider these recommendations as ambulatory operations resume.
Healthcare in the Home
Webinar Recording | Learn About the November 25th, 2020 CMS Announcement and How to Expand Your Capacity with a Hospital at Home Solution
With a sharp rise in COVID-19 cases across the U.S., leaders need new methods to provide flexible delivery care – including hospital care at home to address upcoming capacity constraints in traditional acute care settings.>/p>
Expanding Hospital-At-Home During the COVID-19 Pandemic
By delivering hospital care to the home, organizations can save resources and lives.
Communications and Leadership
Leadership: Change Management and Leadership During Times of Uncertainty
Mobilize your teams to navigate uncertainty with an intentional change management strategy.
Compassion and Resiliency Resources
Develop strategies for reducing and managing physician burnout today while helping to support and prepare physicians in the future.

Response Resources
Immediate and prudent actions to guide your organization through crisis response.
Financial and Business Disruption
Business Disruption: Respond Rapidly to Withstand Business Uncertainty
Recommendations for rapid response in three key areas of the healthcare organization.
Financial: Immediate Actions to Streamline Reimbursement With Payors
Consider taking these immediate actions with payors to reduce administrative friction, protect revenue and maintain financial stability.
Communications and Leadership
Leadership: Optimizing Daily Safety Huddles
In times of high stress, providing frequent, clear, consistent communication about priority actions and information from the top down is critical to keep teams focused. Apply these tactics to maintain clear, consistent communication with your team during COVID-19. Optimize resources and processes to keep patients and staff safe with daily leadership safety huddles.
Hospital-Based Research Programs, Academic Health Centers, Children's Hospitals and Education Institutions
Resources for Higher Education Leaders Navigating COVID-19 Response
The global impact of COVID-19 continues to have significant effects on hospital-based research programs, academic health centers and education institutions. Huron has assembled resources to help leaders of these institutions respond promptly and manage effectively during uncertain times to advance their core mission.