You Belong at Huron
Huron's strong sense of purpose and values-driven culture enable us to fulfill our mission, ignite innovation and create new opportunities for growth. Our commitment to our culture and our communities is rooted in our people and their desire to make an impact. We believe we all have a role to play in fostering an inviting and inclusive work environment where everyone belongs and is encouraged to be their authentic self.
Mission, Vision & Values
The Huron Difference
Through our strong, collaborative, values-driven culture, our people and our organization can make a difference in the world and continue to make Huron a great place to work.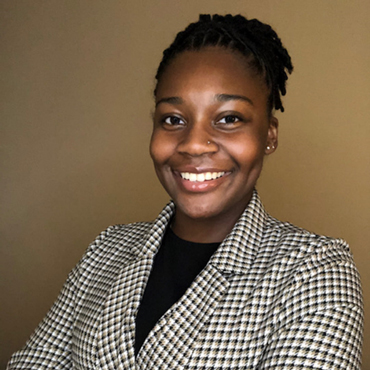 Meet Janae
As Janae approached her graduation from DePaul University in 2018, she met with a number of firms. Huron quickly stood out.
Read More
Since joining Huron, there hasn't been a time when I haven't felt like I didn't belong.

"
As Janae approached her graduation from DePaul University in 2018, she met with a number of firms. Huron quickly stood out. With each of her interactions, she realized this was an organization that shared her personal values — particularly around inclusion and humility. "Even in the interview process, I saw Huron's values come to life. That showed me they were more than words on a page."
Janae is a coordinator on the campus recruiting team, where she works across the organization to ensure candidates have a positive interviewing and hiring experience that mirrors her own. She is passionate about sharing Huron's story with prospective employees wanting to help clients drive transformative change.
When talking to candidates, Janae is quick to emphasize the priority Huron places on ensuring its people are supported in and outside of work. "I believe Huron sees you as a person first and an employee second. The flexibility and resources we're provided prove that our leaders want employees to be their best selves in and outside the workplace."
Janae actively participates in firmwide initiatives to strengthen Huron's culture and give back to her local community. As a member of Huron's African American employee resource group and its recruiting and retention subcommittee, she applies her professional expertise to helping Huron expand and improve recruiting efforts for diverse candidates. Experiences like this, along with volunteer work through Huron's philanthropic program, provide Janae an opportunity to connect with colleagues across the organization who share her eagerness to make an impact every day.