The Transformation Imperative in Higher Education: How Leaders Are Planning for the Future
Favorite
Amid continuous, disruptive change, higher education leaders are seeking to transform their institutions to meet shifting public expectations, overcome financial pressures and combat new competition. To better understand how they think about — and plan to respond to — the current climate, Huron, the American Council on Education (ACE) and the Georgia Institute of Technology surveyed 495 higher education leaders about the industry's greatest challenges and the steps they are taking to future-proof their institutions.
The data collected paints the picture of an industry, steeped in tradition, looking for innovative ways to create transformation-ready institutions that excel across four dimensions — shared leadership, long-term planning, data-driven performance management and student-centric offerings.
To explore the full research and learn more about the four transformation-readiness dimensions, download the e-book.
Four Transformation-Readiness Dimensions
Empowering and Promoting Shared Leadership
Planning Differently for the Short and Long Term
Pursuing Data-Driven Performance Management
Creating Student-First Engines to Meet New Demand
Long-Term Strategic Planning Future-Proofs Higher Education Institutions
In light of the current pace of industry change, short-term planning is not enough. Most institutions still plan for the "medium term" — not fast enough to be agile or future-facing enough to be transformational.
How Far Into The Future Institution's Plan
Actionable Data Improves Institutional Performance
Now, more than ever, it is critical for all functional areas of an institution to have access to technology and actionable insights that inform strategic decision making. Yet, most respondents note that their institutions have yet to integrate these capabilities across departments.
Confidence in Institution's Ability to Respond to Top Market Trends
Student-Centricity Distinguishes Institutions from the Competition
One of the strongest defenses against increased competition and unprecedented change is a rigorous focus on student success. To that end, forward-thinking higher education leaders are investing now in services and technology that engage the whole student.
How Institutions Expect to Respond to Increased Competition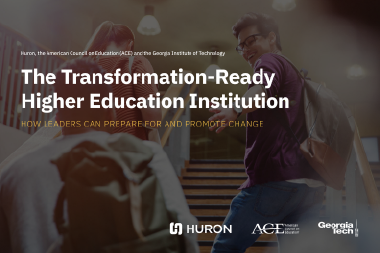 For more detailed data analysis and recommendations for fostering a transformation-ready institution, download the full e-book.
Read the E-Book