Case Study Ministry Health Care Inc
Download Now
Contact Us
Ministry Health Care serves communities across Wisconsin and Minnesota with more than 12,000 employees at 15 acute care hospitals and over 45 clinic locations.
The Challenge
Ministry Health Care is a market leader with strong revenue performance. Building on the system's existing strengths, leadership set the goal of centralizing revenue cycle governance, designing their long-term operating model and increasing revenue cycle and clinical documentation efficiency and effectiveness across their hospital and physician enterprises.
Our Approach
Huron worked in close collaboration with Ministry's leadership and staff to design and implement a centralized and streamlined revenue cycle governance structure that generated significant financial benefits, while also supporting Ministry's promise of putting patients first.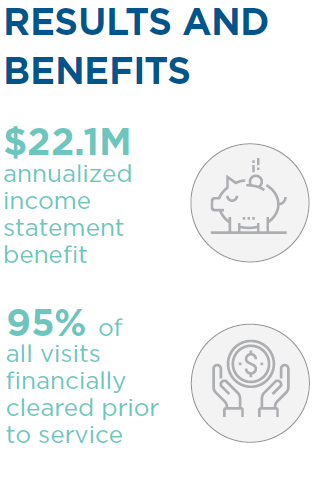 Redesigning revenue cycle governance: Huron collaborated with Ministry to design and implement a system-wide revenue cycle organizational and operating model. Huron facilitated a comprehensive assessment, including extensive vetting, so the model would deliver sustainable financial benefits while supporting Ministry's mission and values.
Increasing accountability and efficiency: By establishing effective work drivers and implementing clear, concise performance expectations, the project led to increased patient and employee satisfaction and improved operational excellence across the revenue cycle.
Streamlining workflow: Improvements to system-wide coordination, including reporting and process standardization, standardized job functions, consolidation of governance, and the implementation of new revenue cycle and clinical documentation tools, helped streamline workflows and set Ministry on a path of continual improvement. Integrated clinic and hospital workflows were established for registration and authorization functions, providing a foundation for increased system collaboration.
Creating sustainable results: The Huron engagement continues to benefit Ministry's bottom line. The project delivered $22.1 million in annualized income statement benefit through improved revenue cycle and clinical documentation processes. Since the Huron engagement, the project has been expanded to include additional hospitals and multiple clinics.
Download Now